Atmel has released its first family of embedded Flash microcontrollers for the ARM Cortex-MO+ Core processor, enhancing the company's traditional eight-bit portfolio with a line of 32-bit performance products aimed at the home automation, consumer products, smart metering, and industrial markets.
Andreas Eieland, a senior marketing manager for Flash-based microcontrollers at Atmel, told us in an email that the SAM D20 series is "designed to be general purpose." It includes 14 new devices available in 32-, 48-, and 64-pin package options with 16-256KB of Flash memory.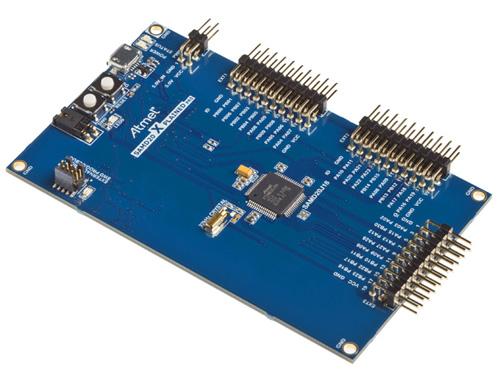 The new products "will fit a wide range of applications," including the emerging Internet of Things, in which myriad devices will be connected to a network or the Internet, Eieland said. "One of the big growth opportunities for the embedded market as a whole and the SAM D20 especially is smart and connected applications, or IoT as many people call it, having nodes in all kind of systems with more intelligence that are connected to each other."
Atmel is working with early adopter customers of the new microcontrollers, including Bosch Sensortec, which has embedded it in its BNO055 nine-axis accelerometer. Other early adopters are working with white goods control and user interfaces. "The SAM D20 is a very good fit" for these applications "and everything in between."
The key features of the SAM D20 Cortex-MO+ ARM-based series include a number of peripherals. Eieland said its event system allows peripherals to cooperate without any use of CPU resources, resulting in improved performance, guaranteed timing, and reduced power consumption. The SERCOM serial communication module can be configured as UART, I2C, or SPI. Every device in the series has multiple SERCOMs; the largest ones have up to six. The module also allows designers to mix and match peripherals for a product. A new peripheral touch controller provides "the easiest way to add capacitive touch interfaces to your application."
Other features include high-precision 12-bit analog and internal oscillators, up to eight 16-bit timer/counters, real-time performance, and flexible clocking options and sleep modes.
To help designers get started with the new line, Atmel is offering free tools -- Atmel Studio and Atmel Software Framework -- as well as a cycle accurate simulator to support development using the new microcontrollers.
As it continues to work with early adopters, Atmel plans to go into volume production on the product soon, according to Eieland. In the meantime, samples of 128KB 32-pin and 256KB 48- and 64-pin products are available in QFN and QFP packages, with prices starting at $1.02 for 1,000 units of the 16KB 32-pin QFN package.
Related posts: