Market forces will cause sales of natural gas vehicles (NGVs) to spike over the next seven years, but the overall number of those vehicles will still be small, a new report from Navigant Research says.
"It's growing much faster than the total car market," Dave Hurst, senior analyst for Navigant, told us. "But part of the reason for that growth is that it's still such a small market. It has nowhere to go but up."
Higher gasoline prices and lower natural gas prices will power the move to NGVs, according to the report, Market Data: Natural Gas Vehicles (registration required). Those forces will give rise to a 16 percent compound annual growth rate from now until 2020.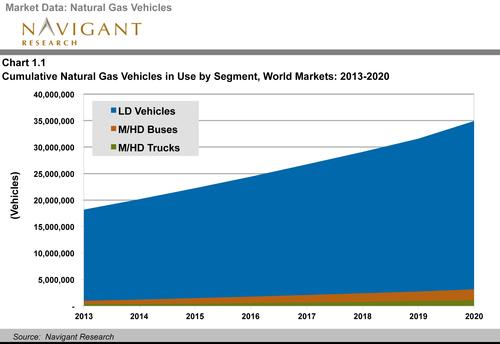 For the next few years, most of the vehicles using the technology will be trucks. Because compressed natural gas tanks tend to be bulky, large vehicles are far more likely to have the space to store them. The tanks would typically take up too much trunk space in cars, making long trips difficult. Up to now, US automakers have confined natural gas to pickups and vans.
"Pickup trucks tend to have a lot of space for storage tanks," Hurst said. "Those vehicles can get from 200 to 400 miles of range on natural gas." Cars would be more likely to get about 200 miles between refills.
As a result, the study concludes that there will be little competition between natural gas vehicles and plug-in electric vehicles. Plug-in electric technology will more likely serve in small and midsized cars, while natural gas technology will stake out vans, pickups, and even big over-the-road trucks. "This trend isn't going to affect electric vehicles," Hurst said. "Electrification works better on smaller vehicles because of the packaging issues, whereas big trucks are a terrible application for an electric powertrain and a great one for natural gas."
By 2020, 35 million of the 1.5 billion vehicles on the road worldwide -- a little more than 2 percent -- will use natural gas, the study predicts. In the US, approximately 0.3 percent of the vehicles sales will burn natural gas.
Sales are likely to be higher in countries such as China, Pakistan, and Iran. "Countries that are oil rich tend to push their populace to use natural gas," Hurst said. "Then they turn around and sell their oil to the US."
Related posts: