We've told you about researchers working to make lithium-ion batteries charge faster and last longer. But other companies are working to solve the charging problem through complementary technology.
To that end, Texas Instruments has introduced two power management chipsets that use its new MaxLife fast-charge technology, which allows consumers to charge single-cell lithium-ion batteries faster. It also stretches the life of the batteries.
The company said in a press release that the new bq27530 and bq27531 fuel gauge circuits are coupled with TI's bq2416x and bq2419x chargers. Together they optimize battery performance using the highest possible charge rates with minimal battery degradation.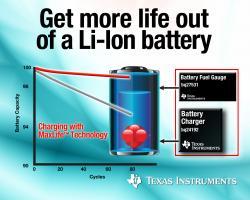 TI said its MaxLife technology uses a degradation modeling system based on a proprietary algorithm to minimize charge time while extending battery life as much as 30 percent in lab tests. The algorithm predicts and avoids charge conditions that could degrade the battery.
Some researchers concerned about potential fire hazards are working to come up with new designs and alternative chemistries for lithium-ion batteries. In the meantime, battery management systems are one option for getting more out of batteries. Unlike traditional software-controlled systems, the new chipsets give designers gauge control over the charger directly, according to the company. This allows them to predict battery capacity more accurately and translate that information into run time.
The autonomous battery management system can reduce software overhead and improve battery safety and security and a better thermal management system, TI said. Its chipsets also let designers adapt the charging algorithm to the platform and to newer, high-capacity batteries.
To help developers get started working with the chipset, TI is offering a lithium-ion fast-charge development kit that features the bq27531 fuel gauge directly communicating with the bq24192 charger via an I2C interface. The kit has an input operating range of 4.2-10V.
Key features of the MaxLife technology include:
Faster charging at up to 4.5-A rates for single-cell lithium batteries.
Extended battery service life with minimum degradation of run-time after each discharge cycle.
High-efficiency charging with enhanced thermal management and reduced heat generation.
High-performance Impedance Track™ monitoring system provides the most accurate capacity estimation and precise control of charging current and termination thresholds.
The bq27530 and bq27531 battery fuel gauges with charger control are available in a 2mm x 1mm x 0.65mm, 15-pin wafer chipscale package (WCSP) for $2.07 in 1,000-unit quantities. The bq24192 4.5A battery charger comes in a 24-pin, 4mm x 4mm QFN package and costs $2.50 in quantities of 1,000. The bq24160 dual-input 2.5A charger comes in a 24-pin QFN package and a 2.8mm x 2.8mm, 49-ball WCSP package and costs $2.50 in 1,000-unit quantities.
Related posts: