Traffic's heavy, the fog is growing thicker, and you need to find a restaurant for an important meeting in a strange city. That scenario would amount to a triple threat to any harried driver, but with a head-up display (HUD) projected in front of you, you're easily guided to the unfamiliar restaurant. (See Figure 1.) The HUD could be coupled with other technologies, to track your speed and/or warn you of potential collision threats. This all occurs without you having to take your eyes off the road.
Currently, such technology benefits just a small fraction of the world's drivers. In 2012, only about one million of the 60 million cars produced worldwide included such displays. But with rising concerns about road safety and the growing array of infotainment offerings in today's cars, HUD systems are expected to multiply rapidly and find their way into mainstream models, not just luxury cars.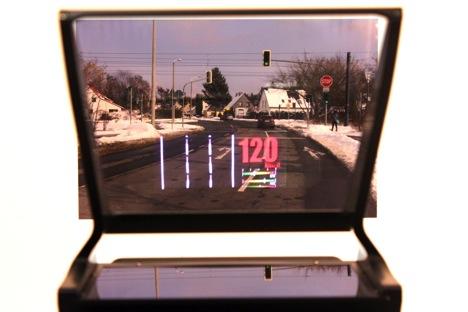 With companies like BMW, Audi, and General Motors leading the way, the number of cars sold with HUDs will jump fivefold by 2017 to more than five million units, say forecasters, making these displays one of the fastest growing segments of auto technology. BMW, for example, is planning to offer HUDs in all its cars by 2020.
An increasing number of tier one suppliers, such as Johnson Controls, Delphi, Bosch, and Denso, are jumping into the HUD field to contest Nippon Seiki and Continental, the current market leaders. Offered as an option, HUDs typically add about $1000 to a vehicle's price.
On the road to augmented reality
Pioneered in the 1950s in fighter jets, HUDs began reaching the auto market in the late 1980s, with GM pioneering a system showing speed, tachometer, and other basic readings. With safety concerns mounting in recent years from increasingly crowded roads, weather, and distracted drivers, HUDs can save lives by keeping the motorist's eyes focused on the road ahead. In the single second it typically takes a driver to glance down at a conventional dashboard display, a car going 60 mp/h can travel more than 90 ft, or about seven car lengths.
Current HUD systems fall short in delivering the kind of HUD experience drivers and auto companies want. In most HUDs now on the road, drivers see only a small display area, with such basic information as speed, posted speed limit, low fuel and system warnings, and navigational aids, such as an arrow signifying a turn at a specified distance ahead. What drivers really want are HUDs that project more types of information, including links to a vehicle's infotainment system.
Also in demand are HUDs that can deliver larger field of views for an "augmented reality." Such systems, for instance, would show a virtual travel lane in foggy conditions when paired with infrared cameras mounted in the front grill. Or, combined with night vision technology, the HUD could post a warning of an obstacle in the road ahead, such as a deer or disabled car.