Start-stop vehicles may soon get a big boost from a new battery chemistry that offers longer cycle life and higher power than today's best lithium-ion units.
The new chemistry, developed by Leyden Energy Inc., could meet the extraordinary demands of so-called "start-stop" vehicles, which need to be restarted as many as 300,000 to 500,000 times over a lifetime. Leyden's chemistry was recently awarded a $2.28-million development contract from the United States Advanced Battery Consortium (members include General Motors, Ford Motor Co., and Chrysler Group LLC), precisely because automakers are searching for a chemistry more specifically tailored to the needs of start-stop.
"We are laser-focused on start-stop applications because they're coming so fast," Rick Wilmer, CEO of Leyden Energy, told Design News. "We believe that a custom-developed chemistry for this application is well-positioned for success."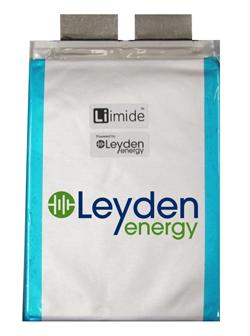 Indeed, the start-stop market calls for a chemistry unlike any previously used in the automotive industry. Start-stop vehicles, so named because they automatically stop and restart at traffic signals and intersections, are expected to start at least 10 times more frequently than today's conventional cars. As a result, they need batteries with higher cycle life and power, but they don't necessarily need the high-energy chemistries now being employed in pure electric cars.
Leyden's new battery, expected to be available in samples at the end of this year, employs an electrolyte chemistry known as li-imide (lithium-imide). The chemistry, acquired from DuPont, allows for transport of ions between the battery's anode and cathode, without a build-up of hydrofluoric acid that could otherwise damage the battery. As a result, cycle life is said to be longer than that of conventional lithium batteries, especially at high temperatures.
By combining the Li-imide electrolyte with a lithium manganese oxide (LMO) cathode and lithium titanate oxide (LTO) anode, Leyden also claims its battery more easily accepts and delivers charge. The company estimates that the battery's power numbers will be in the 3,500 W/kg range for both charge and discharge. "For start-stop, it's all about power density," Wilmer told us. "We have to be able to deliver hundreds of amps for a short period of time. This battery does that quite well."
To reach the higher power and cycle life numbers, Leyden officials said they had to give up some energy. Wilmer estimates that the new battery's energy density is only about half that of the chemistries used in plug-in hybrids and electric cars, such as the Chevy Volt and Nissan Leaf. In start-stop, however, the higher energy numbers won't be needed, since those vehicles are typically powered by gasoline engines.
Start-stop is still so new that automakers aren't yet sure how many vehicles will use the technology or how many times those vehicles will have to be restarted over the course of a lifetime. By some estimates, as many as 30 million vehicles worldwide could employ the technology within the next five years, with each of those being restarted between 350,000 and 500,000 times.
"We're working with all the auto companies to come up with a worst-case cycle life to test against and we haven't reached a conclusion yet," Wilmer said. "But we fully expect this battery chemistry to support 500,000 cycles."
Related posts: