Motion control may be one of those things that can easily be taken for granted in industrial automation and robotic systems, but it's traditionally complex to program. That's why Texas Instruments has released new motion-control software the company says drastically simplifies the engineering process of developing motion control applications "every step of the way."
The company's new InstaSPIN-MOTION motor control software is aimed at taking the pain out of motion-control development by optimizing complex motion sequences, reducing tuning to a single parameter, and accurately tracking desired trajectories across operating ranges. "TI has never offered anything like this before," Chris Clearman, a manager in motor control solutions at Texas Instruments, told Design News. "This is the most complete MOTION package from a semiconductor vendor we are aware of."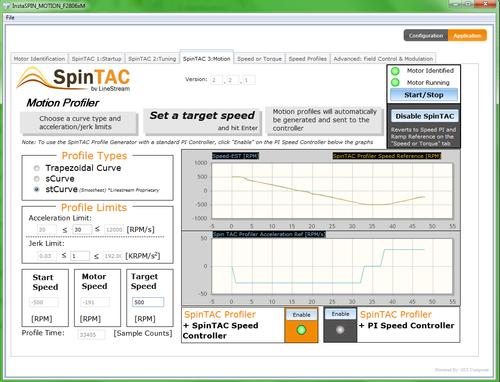 Specifically, InstaSPIN-Motion builds on top of TI's InstaSPIN-FOC, which includes motor parameter identification, a self-tuning software sensor called FAST, and automatic tuning of the current control loop. The FAST software sensor provides rotor flux measurement and motor identification, as well as automatic current control tuning and sensorless feedback in a field-oriented control (FOC) torque controller. The sensor also speeds the deployment of sensorless, variable load, three-phase motor solutions, Clearman told us.
InstaSPIN-Motion also includes four new components to address each aspect of designing motion control, with the ultimate goal of making it simpler and more efficient than older design techniques. Those components are:
Identify, which enacts a short test on the motor to identify the inertia and friction of the system. This is used in the velocity compensation of motion-control development;
Control, which replaces standard PI based velocity controllers -- "which are hard to tune and must be tuned at different speeds/loads across operation," Clearman said, with a single variable tuning knob that typically works across the entire operation;
Move, which calculates the inputs to the Controller to move from A to B based on one of three curve types and user-supplied constraints of acceleration and jerk;
Plan, which enables rapid state-based development of software that connects movements (A-B, B-C, C-D, etc.) based on system criteria.
Additionally, engineers also can use as a complement to InstaSPIN-Motion the motor control software infrastructure MotorWare, which offers modules, drivers, system examples, and documentation for current C object-oriented and API-based coding techniques.
InstaSPIN-Motion is now available on TI's 90 MHz, 32-bit floating point Piccolo F2806xM microcontrollers starting at $10.22 USD per 10 Ku. TI also is offering an InstaSPIN-Motion-supported low-voltage, low-current motor control kits for $299, a low-voltage, high-current motor control kit for $299, or a high-voltage motor control kit for $699. For designers who have previously purchased a TI motor control development kit, they can order the modular InstaSPIN-Motion-enabled Piccolo controlCARD for $99.
Related posts:




7
When Dick Neubert discovered that his fireplace's heatilators lost heat when not in use, he created a gadget to rectify the situation.

4
Microsoft will quit supporting – and patching – Windows XP in April. This may be a cruel development for plants.

2
Injection molding can be a powerful tool for both prototyping and production. Here are some tips on how design engineers can get the most out of it.

3
Truchard will be presented the award at the 2014 Golden Mousetrap Awards ceremony during the co-located events Pacific Design & Manufacturing, MD&M West, WestPack, PLASTEC West, Electronics West, ATX West, and AeroCon.

15
In a bid to boost the viability of lithium-based electric car batteries, a team at Lawrence Berkeley National Laboratory has developed a chemistry that could possibly double an EV's driving range while cutting its battery cost in half.


LATEST ARCHIVED BROADCAST
For industrial control applications, or even a simple assembly line, that machine can go almost 24/7 without a break. But what happens when the task is a little more complex? That's where the "smart" machine would come in. The smart machine is one that has some simple (or complex in some cases) processing capability to be able to adapt to changing conditions. Such machines are suited for a host of applications, including automotive, aerospace, defense, medical, computers and electronics, telecommunications, consumer goods, and so on. This discussion will examine what's possible with smart machines, and what tradeoffs need to be made to implement such a solution.



Datasheets.com Parts Search
185 million searchable parts
(please enter a part number or hit search to begin)