Cars, trucks, appliances, climate control systems, industrial processes, and life science instruments have a common need for temperature measurement. Platinum resistance temperature detector (RTD) elements are specifically designed for the precise measurements required by these and dozens of other applications. This article explores the inherent properties of platinum temperature sensors, the types of RTD elements available, and typical applications.
Platinum as a temperature sensor
A platinum RTD element is a thermal resistor -- a resistor with a value that changes by a predictable amount in response to temperature changes. Platinum RTD elements have a positive temperature coefficient (PTC), meaning the resistance increases with increasing temperature. A virtually linear change in resistance, coupled with intrinsic chemical and temperature resistance, makes platinum an ideal base material for temperature sensing. Platinum has been used in temperature sensing since the early 1900s and has a long history with precision temperature measurement applications.
Images referenced throughout this article appear in the slideshow below. Click the image to begin.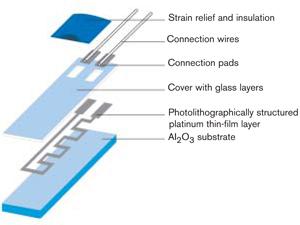 The elemental properties of platinum contribute to several characteristics beneficial to temperature sensing.
High precision: Strict controls on platinum RTD element manufacturing processes and raw materials minimize deviations from the ideal resistance versus temperature response.
High signal resolution: A relatively high (approximately 3,900ppm) change in resistance vs. temperature provides good signal resolution. Choosing an element resistance higher than the standard Pt100 (100Ω), such as Pt1000 (1,000Ω), Pt2000 (2,000Ω), or Pt10k (10,000Ω), further enhances resolution by increasing the ohms/°C response to temperature variation.
Wide operating temperature range: Platinum RTD elements are available for operation from -196°C to 1,000°C.
Long-term stability: The typical long-term drift of thin-film platinum RTD elements is 0.04 percent maximum after 1,000 hours at 500°C.
Interchangeability and standardization: The IEC 60751 specification defines the requirements, tolerance classes, and resistance versus temperature function for RTD thermometers made with a platinum element having a temperature coefficient of 3.851 x 10-3°C-1, commonly expressed as TC3851, TC3850, or 3850ppm. The defined tolerance classes allow for interchangeability between two elements of the same resistance value. Other available temperature coefficients include 3750ppm, 3770ppm, and 3916ppm.
Linearity: The resistance versus temperature relationship for a platinum RTD element can be described by the polynomial Rt = R0(1+at+bt2), where R0 is the resistance at 0°C, t is the temperature, a and b are experimentally derived constants, and Rt is the resistance at t. The value for b is so small that a linear relationship between temperature and resistance may be assumed for most applications. The linearity simplifies signal processing, and minimizes measurement error.
Platinum RTD sensor manufacturing process
Two major types of platinum RTD temperature sensors are available: thin-film and wirewound. As their names imply, thin-film elements, including surface-mount devices (SMDs), are manufactured via thin-film photolithography, while wirewound sensors are constructed from a precision-wound platinum wire.



Remote monitoring now looks beyond the individual motor or conveyor and instead views the process from end to end.
BASF is partnering with Hyundai on a high-performance concept car that showcases both eco-friendly, sustainable materials and materials to enable lighter weight cars.
In an move to ease the use of multiple product design tools, PLM provider Aras and EDM company Zuken have integrated their products.
General Motors is putting an off-road twist on hydrogen fuel cell technology with an imposing new pickup demonstrator called the Chevrolet Colorado ZH2.
Fine powder printing of industry-standard metal and ceramic powders with a grain size of less than 10 microns is now available from industrial 3D printer maker ExOne for its Innovent printer.

Focus on Fundamentals consists of 45-minute on-line classes that cover a host of technologies. You learn without leaving the comfort of your desk. All classes are taught by subject-matter experts and all are archived. So if you can't attend live, attend at your convenience.
Next Course September 27-29: