Cars, trucks, appliances, climate control systems, industrial processes, and life science instruments have a common need for temperature measurement. Platinum resistance temperature detector (RTD) elements are specifically designed for the precise measurements required by these and dozens of other applications. This article explores the inherent properties of platinum temperature sensors, the types of RTD elements available, and typical applications.
Platinum as a temperature sensor
A platinum RTD element is a thermal resistor -- a resistor with a value that changes by a predictable amount in response to temperature changes. Platinum RTD elements have a positive temperature coefficient (PTC), meaning the resistance increases with increasing temperature. A virtually linear change in resistance, coupled with intrinsic chemical and temperature resistance, makes platinum an ideal base material for temperature sensing. Platinum has been used in temperature sensing since the early 1900s and has a long history with precision temperature measurement applications.
Images referenced throughout this article appear in the slideshow below. Click the image to begin.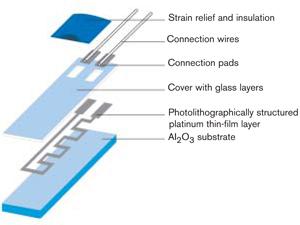 The elemental properties of platinum contribute to several characteristics beneficial to temperature sensing.
High precision: Strict controls on platinum RTD element manufacturing processes and raw materials minimize deviations from the ideal resistance versus temperature response.
High signal resolution: A relatively high (approximately 3,900ppm) change in resistance vs. temperature provides good signal resolution. Choosing an element resistance higher than the standard Pt100 (100Ω), such as Pt1000 (1,000Ω), Pt2000 (2,000Ω), or Pt10k (10,000Ω), further enhances resolution by increasing the ohms/°C response to temperature variation.
Wide operating temperature range: Platinum RTD elements are available for operation from -196°C to 1,000°C.
Long-term stability: The typical long-term drift of thin-film platinum RTD elements is 0.04 percent maximum after 1,000 hours at 500°C.
Interchangeability and standardization: The IEC 60751 specification defines the requirements, tolerance classes, and resistance versus temperature function for RTD thermometers made with a platinum element having a temperature coefficient of 3.851 x 10-3°C-1, commonly expressed as TC3851, TC3850, or 3850ppm. The defined tolerance classes allow for interchangeability between two elements of the same resistance value. Other available temperature coefficients include 3750ppm, 3770ppm, and 3916ppm.
Linearity: The resistance versus temperature relationship for a platinum RTD element can be described by the polynomial Rt = R0(1+at+bt2), where R0 is the resistance at 0°C, t is the temperature, a and b are experimentally derived constants, and Rt is the resistance at t. The value for b is so small that a linear relationship between temperature and resistance may be assumed for most applications. The linearity simplifies signal processing, and minimizes measurement error.
Platinum RTD sensor manufacturing process
Two major types of platinum RTD temperature sensors are available: thin-film and wirewound. As their names imply, thin-film elements, including surface-mount devices (SMDs), are manufactured via thin-film photolithography, while wirewound sensors are constructed from a precision-wound platinum wire.




6
When Dick Neubert discovered that his fireplace's heatilators lost heat when not in use, he created a gadget to rectify the situation.

4
Microsoft will quit supporting – and patching – Windows XP in April. This may be a cruel development for plants.

2
Injection molding can be a powerful tool for both prototyping and production. Here are some tips on how design engineers can get the most out of it.

3
Truchard will be presented the award at the 2014 Golden Mousetrap Awards ceremony during the co-located events Pacific Design & Manufacturing, MD&M West, WestPack, PLASTEC West, Electronics West, ATX West, and AeroCon.

14
In a bid to boost the viability of lithium-based electric car batteries, a team at Lawrence Berkeley National Laboratory has developed a chemistry that could possibly double an EV's driving range while cutting its battery cost in half.


LATEST ARCHIVED BROADCAST
For industrial control applications, or even a simple assembly line, that machine can go almost 24/7 without a break. But what happens when the task is a little more complex? That's where the "smart" machine would come in. The smart machine is one that has some simple (or complex in some cases) processing capability to be able to adapt to changing conditions. Such machines are suited for a host of applications, including automotive, aerospace, defense, medical, computers and electronics, telecommunications, consumer goods, and so on. This discussion will examine what's possible with smart machines, and what tradeoffs need to be made to implement such a solution.



Datasheets.com Parts Search
185 million searchable parts
(please enter a part number or hit search to begin)