OnStar is just one example of how M2M telemetry caters to what you might call "the consumerization of everything." As consumers get accustomed to instant, "always-on" information through smartphones and other mobile devices, they are beginning to demand updates on important devices in the home, such as automated management of appliances. That trend has led companies like LG, Whirlpool, and Samsung to plan new M2M capabilities in their products to optimize energy use. Whirlpool, for example, is now selling a washing machine that can be controlled by a smartphone. The company has also announced that by 2015, all its electronically controlled appliances sold worldwide will be equipped to link with smart grids.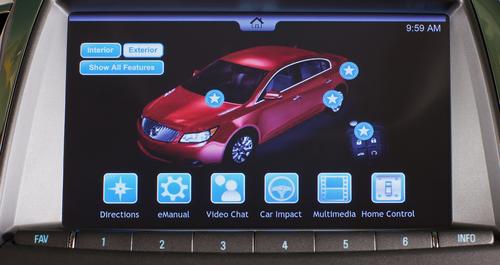 It's not a big leap from home management to health and personal care. With home-based healthcare becoming more important, M2M telemetry holds the potential not only to gather data from home diagnostics equipment, but to convey instructions directly back to the patient or even to activate bedside therapy, such as the administration of oxygen.
New mandate for design
With such applications on the rise, connectivity has become a front-and-center requirement for many original equipment companies as they plan their next generation of devices. It's getting to be that if you produce a device that lacks M2M capability, you risk falling behind in the market. Conversely, companies that build connectivity into their devices can also add new functionality. An example is the emergence of the smart grid, where utilities can optimize energy management by deploying different energy resources, including wind and solar, within a seamless connected network. One step further, connectivity can create new profit centers. Companies that are building connected devices are extending their reach further by offering new services, such as aggregating and analyzing M2M data in the cloud.
Despite the many benefits, adding M2M telematics to equipment often poses tough challenges for engineering teams. Design engineers are typically experts in developing a machine -- not in connecting that machine to gateways or to a remote datacenters.
Take the example of tanks used for chemical storage or processing. In the past, engineers designed the tank primarily for safety and structural soundness, integrating a variety of mechanical sensors to provide data on leakage, fluid level, and other parameters. Now, when faced with the task of networking those tanks, which are often located in remote locations, companies are not only upgrading components from mechanical to electrical and analog to digital, but adding many new components for computing, data storage, interfaces to M2M gateways, and links to applications that pass data back and forth between a remote server and the connected machines.
If you look just at the hardware found in a typical M2M solution, the engineer needs to incorporate interfaces between analog and digital sensors, an embedded PC board with a processor and storage, RF radios, antennas, and a power supply. The M2M solution, in turn, often connects to a gateway device on-premises or directly to a carrier that's compatible with the particular communications network used in your application.
While wireless is rapidly becoming the network of choice for M2M applications, companies must still decide which protocols to use, based on their particular application and such factors as cost, reach, power requirements, and needed bandwidth. Bluetooth has applications in the M2M market for short-range data transmission. WiFi works well for in-building applications, such as networking security cameras and HVAC monitoring, and it offers high-bandwidth capability for needs like high-definition streaming video. The ZigBee standard also is becoming more popular for low-power, low-bandwidth applications, but reach is limited to a large building or small campus setting. There are also numerous proprietary wireless protocols.
Once you take your M2M application into the long-distance or mobile arena, you need to link to a cellular network. The networks are moving from 2G and 3G standards to 4G, with its ultra-high bandwidth for data transmission. Expect to see 4G play a huge role in such M2M applications as home monitoring, vehicle infotainment, infotainment kiosks, and automated vending.
Engineers also need to consider the software side of the M2M equation. Here, engineers must integrate several different solutions. In the case of the tank application, the M2M solution must connect to analog sensors within the tank, which typically involves some level of analog signal processing. The embedded PC board must be programmed to analyze data from sensors in your machine and perhaps do some edge processing to make localized decisions or calculations based on that data. You also need additional software for security, and for transferring and guaranteeing transmission of data for your application. At the gateway, still more software aggregates and processes data. Finally, at the cloud server level, companies need other software solutions to store, retrieve, and analyze all the data they've gathered from their M2M network.
Negotiating the M2M maze
Taking into account all these hardware and software requirements, plus a complex and rapidly evolving M2M ecosystem where standards are still in flux, engineers face a daunting job in adding M2M telemetry to their design projects. What's more, they are dealing with a whole new class of vendors touting what can be a confusing array of solutions.
In the ever-changing world of M2M telematics, design engineers won't find many off-the-shelf answers. But they can solve their design challenges faster by finding an experienced partner that can help tailor M2M solutions to their unique application.
Tim Ingold is the director of technology and innovation for Jabil Circuit.