The Boeing 787 battery fire in Boston last month was caused by a battery short circuit that led to a thermal runaway condition, the National Transportation Safety Board (NTSB) has concluded.
NTSB investigators who did forensic analysis of the Boeing battery said the charred components indicated the temperature inside the 63-pound pack had exceeded 500 degrees Fahrenheit during the January 7 incident at Logan Airport. Evidence showed that one of the pack's eight cells short circuited, causing the temperature to soar.
"Our review of the flight data recorder data shows that the voltage of the battery dropped from a full charge of approximately 32 volts to approximately 28 volts," said NTSB chairman Deborah Hersman in a press conference on Thursday. "This drop is consistent with the charge voltage of a single cell."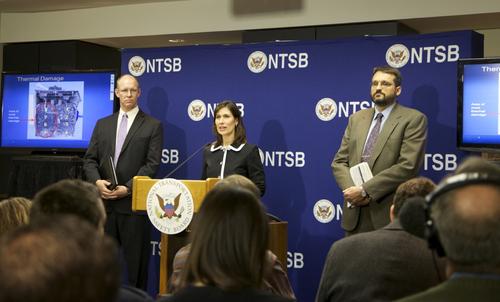 NTSB investigators ruled out mechanical impact damage and external short circuits as the reason for problems inside the battery, Hersman said. They did not know, however, whether the short circuit was caused by battery charging or by defects in the design and construction of the unit, or some other problem.
Experts contacted by Design News said a temperature of 500 degrees can create serious problems for a lithium-ion battery pack. "It's high enough to cause the cells to bloat and possibly to burst into flame," Donald Sadoway, John F. Elliott professor of materials chemistry at MIT, told us in an email. "Remember, the electrolyte is volatile and flammable."
Boeing said it still has not announced any specific ways to fix the 787 batteries, despite reports in various news media that it has already settled on a fix. The Wall Street Journal reported on Friday that the company "is looking at increasing the separation between cells in the lithium-ion batteries to reduce the potential hazards from heat or fire spreading within the batteries and adding enhanced heat sensors."
"There has been no public decision by the company on what these answers might look like or, specifically, what our teams have been working on," Boeing spokesman Marc Birtel told Design News. "We're not going to talk about a fix until we have something to share that's at the point of approval by the FAA."
Improvements like the ones mentioned by The Wall Street Journal have been the subject of much speculation over the past month. Two weeks ago, Tesla Motors CEO Elon Musk publicly stated that the 787 battery pack design was unsafe, and experts such as Sadoway and Elton Cairns of the University of California have suggested that an active cooling system would provide an additional layer of safety for a cost that would be miniscule compared to other 787 sub-system costs.
Sadoway again said last week that the Boeing batteries would be safer with active cooling. "That's what GM does in the Chevy Volt," he told us.
Related posts: