In an effort to make streets safer for pedestrians, the National Highway Traffic Administration (NHTSA) has proposed a rule that could require engineers to add more sound to hybrids and electric vehicles (EVs).
The proposed rule, a follow-on to the Pedestrian Safety Enhancement Act of 2010, would likely require that automakers add external speakers to hybrids and EVs. NHTSA estimates that such speaker systems would add about $30 to the manufacturing cost of the cars, but could prevent about 2,800 injuries over the life of each vehicle model year.
"Our proposal would allow manufacturers the flexibility to design different sounds for different makes and models while still providing an opportunity for pedestrians, bicyclists, and the visually impaired to detect and recognize a vehicle and make a decision about whether it's safe to cross the street," NHTSA administrator David Strickland said in a press release.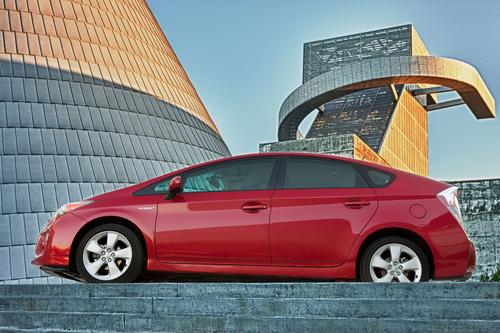 The mandate is the result of numerous studies over the past five years that have shown that the incidence of pedestrian crashes is higher among hybrids and electric cars. A 2009 study from NHTSA conducted on 8,287 hybrids and 559,703 conventional vehicles showed that hybrids were "two times more likely to be involved in a pedestrian crash." Similarly, a study done in Japan at the request of the Japanese Federation of the Blind revealed that more than half the blind respondents were "terrified" of hybrids.
NHTSA's mandate would provide leeway for automakers as to the kinds of sounds, but it does call for them to be detectable under a wide range of street noises and ambient background sounds.
Some hybrids and EVs already incorporate mechanisms for additional sound. Toyota's Prius and RAV EV vehicles, for example, employ a Vehicle Proximity Notification System (VPNS), which is located under the hood and emits sounds at speeds under 15mph. VPNS includes low- and high-frequency sounds that mimic Toyota's internal combustion engines. "It's a retrofitted little speaker behind the front grille," Jana Hartline of Toyota told Design News. "It's not anything that can be heard inside the car, but it is distinctive."
NHTSA said it will give the public 60 days to comment on the proposed mandate. Automakers are expected to work with the agency on the development of a standard. "We've studied it on our own and we will continue to work with NHTSA on it," Hartline said.
Related posts: