Toyota Motor Corp. and Audi AG are demonstrating active safety technologies that could one day serve as building blocks for the emergence of driverless vehicles.
At the Consumer Electronics Show (CES) in Las Vegas this week, the two automakers are showing off vehicles arrayed with sensors and automated control systems that make it possible for cars to observe their own surroundings. Audi is even showcasing a "piloted driving system" that helps drivers steer a car in congested traffic speeds up to 37mp/h (60km/h). The technology also enables vehicles to accelerate, brake, and park by themselves.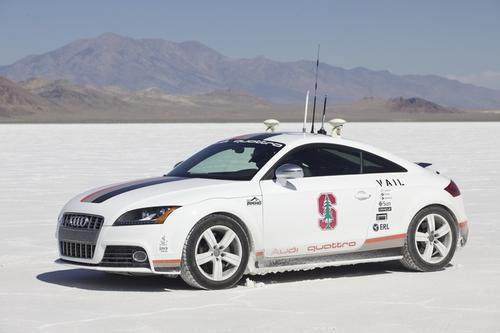 "Our goal is a system that constantly perceives, processes, and responds to its surroundings, that scans the movement of objects around it, identifies a green light from a red light, and measures the trajectory, roll, pitch, and yaw of the vehicle as it steers, accelerates, and brakes along the most efficient route to its programmed destination," said Mark Templin, Lexus Group vice president and general manager, in a prepared statement at a CES press conference on Monday.
Although most automakers are still hesitant to talk about it, the goal also involves the eventual development of driverless vehicles. This week, Audi said that the state of Nevada issued the company a license to allow testing of autonomous vehicles on its public roads. Audi, along with Google Inc., are the only two companies to receive such a license. Audi's licensing follows on the heels of a September announcement by the State of California that it, too, is allowing the testing of self-driving cars on its roads.
At CES, Toyota is demonstrating a multitude of technologies that could one day form the foundation for such autonomous driving. The giant automaker is showing off a Lexus vehicle equipped with 360-degree LIDAR (light detection and ranging) laser, which can detect objects as far away as 70 meters, on its roof. It also employs three high-definition color cameras that can detect objects 150 meters away, radars on its front bumper and sides, a distance measurement indicator, inertial measurement units on the roof, and GPS antennae.




5
Nissan Motor Co. is taking the electric vehicle into new territory, rolling out an exotic-looking three-seat concept car that combines sustainability with race car-like performance.

1
3D visualization is helping us express information in a way that's more informative and easier to decipher.

1
A new service lets engineers and orthopedic surgeons design and 3D print highly accurate, patient-specific, orthopedic medical implants made of metal -- without owning a 3D printer. Using free, downloadable software, users can import ASCII and binary .STL files, design the implant, and send an encrypted design file to a third-party manufacturer.

4
Google is developing robots for manufacturing, assembly, and warehouse tasks.

21
When Dick Neubert discovered that his fireplace's heatilators lost heat when not in use, he created a gadget to rectify the situation.


LATEST ARCHIVED BROADCAST
For industrial control applications, or even a simple assembly line, that machine can go almost 24/7 without a break. But what happens when the task is a little more complex? That's where the "smart" machine would come in. The smart machine is one that has some simple (or complex in some cases) processing capability to be able to adapt to changing conditions. Such machines are suited for a host of applications, including automotive, aerospace, defense, medical, computers and electronics, telecommunications, consumer goods, and so on. This discussion will examine what's possible with smart machines, and what tradeoffs need to be made to implement such a solution.



Datasheets.com Parts Search
185 million searchable parts
(please enter a part number or hit search to begin)