We've told you how plastic can become fuel and form flexible batteries and transparent solar cells. Now, Wake Forest University scientists have created a new type of lighting made from thin layers of light-emitting polymer combined with nanomaterials that glow.
Based on alternating current (AC) field-induced polymer electroluminescent (FIPEL), the lighting device emits a soft, white light, unlike the harsh light from either fluorescents or LEDs. The light is similar to sunlight, and also flicker-free. The device itself is shatter-proof, avoiding broken glass and the hazardous mercury contained in compact fluorescent (CFL) bulbs.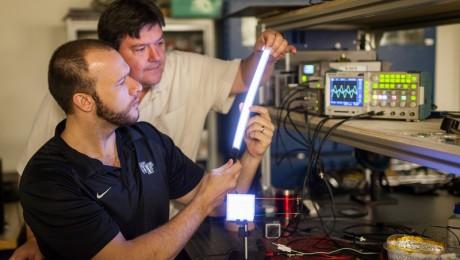 The new lighting devices are also long-lasting, said David Carroll, professor of physics and director of the university's Center for Nanotechnology and Molecular Materials, in a press release. He owns one that has worked for about 10 years. The device has about the same efficiency as LEDs and is twice as efficient as CFLs. In addition to applications in office and home lighting, Carroll envisions the technology being used in large display lighting, such as signs on buses and subway cars, as well as store marquees.
The research team, which Carroll heads, made the lighting device from three layers of moldable, light-emitting polymer. Multi-walled carbon nanotubes (MWNTs) are dispersed in the active layer's polymer, sandwiched between two dielectric layers. The team described its work in an article in Organic Electronics.
According to the article:
An asymmetric device structure, using one dielectric layer, was used to study band alignment effects of carbon nanotubes in charge injection from a contact. The presence of MWNTs within the emissive layer facilitates effective internal charge generation in the symmetric devices, as would be expected if they acted as a charge source. The MWNTs effectively doped the polymer, modifying energy level alignment in the device and increasing field-induced polarization currents. Increase in light emission of five times is achieved in composite devices compared with the device without MWNTs.
The device is inexpensive to make, and the materials can be formed into many shapes and colors, from regular bulbs that fit household lamp and fixture sockets, to large 2-feet x 4-feet panels for office lighting. The team is working with a company to commercialize and manufacture the technology, and Carroll expects it to be available sometime this year.
Related posts: