The Comos enterprise platform featuring integrated data and document management can be used anywhere in the most diverse industrial environments. It enables users to control large quantities of data quickly and easily at their workstations, and new functions allow project teams to collaborate with each other across different systems and locations, enabling parallel processing of different work packages. This increases the efficiency of both engineering and asset management processes. Comos 10 enables various software solutions, such as ERP (Enterprise Resource Planning), and process control systems to be linked even more easily.
Comos 10 also allows further integration of Comos in the Simatic PCS 7 process control system. A new interface ensures a consistent, bidirectional exchange of information between both systems. This allows the previously serial engineering processes to be organized to an even greater extent in parallel, starting with the development process and continuing with the engineering of the mechanical and electrical systems right through to the automation level. The initial pilot projects produced time savings of up to 11 weeks, or 12.5 percent, and up to 315 fewer man weeks, equivalent to 9 percent of the costs.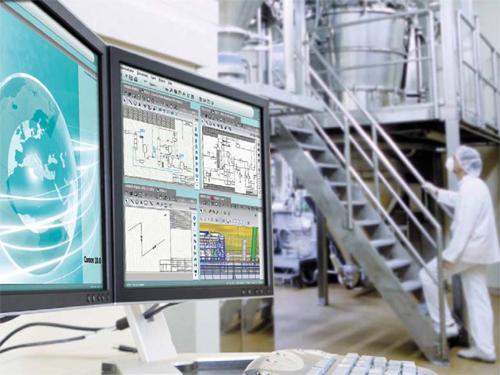 Working in close cooperation with well-known corporations, the new software generation of Comos has been expanded specifically for the pharmaceutical industry. The result takes into account the specific features of the industry. For example, the required document structure is created automatically in the design and engineering phase. Complemented by a clear allocation of responsibilities and schedules, this creates the basis for successful project controlling. The entire plant is also completely qualified throughout all engineering and operating phases thanks to Comos PQM (Project Quality Management).
Click here for more information.
Related posts:




1
Contributing editor Cabe Atwell developed a Raspberry Pi and Arduino-based remote network fish tank control for his goldfish, Goldie Fishwater.

4
Are they robots or androids? We're not exactly sure. Each talking, gesturing Geminoid looks exactly like a real individual, starting with their creator, professor Hiroshi Ishiguro of Osaka University in Japan.

1
Hybrid vehicle engineers may now have a way to do hardware-in-the-loop simulation testing, instead of physical dynamometer testing, on the electric motors that propel their cars.

8
NASA is developing Project Morpheus, a vehicle that can lift off and set itself down on planetary surfaces.

19
Nissan Motor Co. is taking the electric vehicle into new territory, rolling out an exotic-looking three-seat concept car that combines sustainability with race car-like performance.


LATEST ARCHIVED BROADCAST
For industrial control applications, or even a simple assembly line, that machine can go almost 24/7 without a break. But what happens when the task is a little more complex? That's where the "smart" machine would come in. The smart machine is one that has some simple (or complex in some cases) processing capability to be able to adapt to changing conditions. Such machines are suited for a host of applications, including automotive, aerospace, defense, medical, computers and electronics, telecommunications, consumer goods, and so on. This discussion will examine what's possible with smart machines, and what tradeoffs need to be made to implement such a solution.



Datasheets.com Parts Search
185 million searchable parts
(please enter a part number or hit search to begin)