One long accepted yet problematic solution in fluid controls has been the steel clamp. A water quality instrument manufacturer and a bass boat manufacturer have both found user-friendly alternatives to this traditional fix.
Needle pinch valves
HF Scientific has been in business for decades producing instrumentation, test kits, and chemical reagents used for monitoring water quality in a variety of applications. One of its water quality testing products, the MicroTOL Online Turbidimeter, measures the amount of particles suspended in a liquid (turbidity). This is done by measuring the scattered and transmitted light through the liquid -- usually water.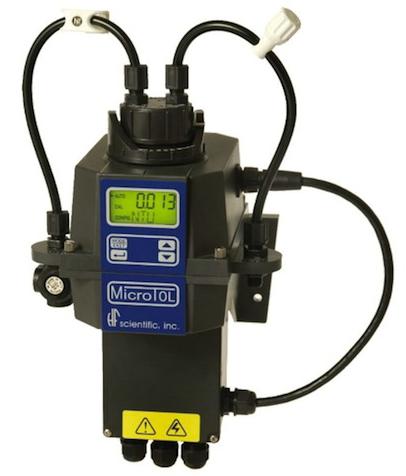 For the instrument to give an accurate reading, bubbles cannot be present in the liquid for the instrument to misread as particles. A stainless-steel medical clamp was originally added to one of the tubes to control back pressure, thereby keeping air in the solution and avoiding a reading error. This clamp was unattractive and often fell off. Functional complications arose when it was exposed to sunlight.
Without an alternative available, the company used this clamp for about 20 years. That is until Michael Goodman, director of technical services at HF Scientific, discovered needle pinch valves by Flow-Rite while reading a trade magazine.
As Goodman researched, he learned the valves fit the requirements for the turbidimeter to control back pressure. The valves do not require fittings, cutting, or removal of soft wall tubing. There is no fluid contact with the valve, since it remains on the outside of the tube. It is designed for fine adjustment of fluid flow, and the valve has a range of zero to full flow. The 1mm divided metered scale on the valve body enables calibration to be recorded and replicated -- a feature not possible with the original clamp. The valves are easily installed by sliding the bottom half on the tube and metering with the top.
The decision was then made to implement the needle pinch valves, and HF Scientific has been pleased with the results ever since. "Air is no longer an issue for the turbidimeter," Goodman told us. "UV exposure doesn't affect the valve, nor has there been a single problem with its function. They aren't thrown away or fall off anymore, since they can just be loosened or tightened but still remain on the tube. It"s also more aesthetically pleasing compared to the steel clamp." As for being user-friendly, Goodman said: "The pinch valve is intuitive -- there was no need to train our customers. It's easier to use, and customers value calibration being repeatable."