The Society of Automotive Engineers (SAE) approved a revised standard last week that will let electrified vehicles charge their batteries much quicker -- in as little as 10 minutes for plug-in hybrids or 20 minutes for battery-electric cars. The standard brings new technology to public charging stations and parking garages, but not to homes.
"Before, it was a matter of hours to charge an electric vehicle battery," Andrew Smart, director of SAE International, told us. "Now it will be a matter of minutes."
The J1772 standard calls for so-called DC fast charging, using voltages ranging from 200V to 500V and currents of up to 200A. Earlier versions described methods using voltages of 120V or 240V and currents of 15A or 80A. Using the new technology, plug-in hybrids will be able to go from 0 percent to 80 percent charge in 10 minutes; battery-electrics could go from 20 percent to 80 percent in 20 minutes.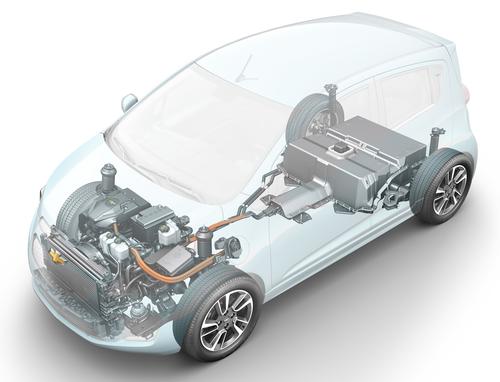 The standard calls for connectors and electrical interfaces with two extra pins on board. Electric vehicles and plug-in hybrids already on the road, such as the Chevy Volt, will not be able to use the new technology immediately, since they don't have the new hardware and software. However, Kevin Kelly, a spokesman for General Motors, told us its forthcoming Spark battery-electric vehicle will have the new connector, interface, and software. "It's less important to do this on the Chevy Volt, because the Volt already has extended range on board," he said. "But it makes a lot of sense for the Spark EV."
The J1772 standard was created in 1996. It was revised in 2001 for use with a paddle-type connector and again in 2010 with a continued focus on AC charging. The new version is the first to address DC fast charging and the first to describe voltages as high as 500V and currents as much as 200A.
The standard reflects a consensus of 190 global experts representing makers of automobiles and charging equipment, as well as utilities, national labs, and municipalities. The experts had to consider the effects of temperature, humidity, and moisture, as well as mechanical aspects.
"You have people who are constantly plugging and unplugging it," Smart said. "You need to know everything, including the fatigue levels of the wires, connectors, and plastics. You also need to get input from people on the infrastructure side -- you've got people who write building codes, and you've got municipalities. It's not just the automakers."
Automakers say the technology could have a profound effect on the sale of pure electric vehicles, many of which require eight or more hours of charging. "This is a standard that everyone was waiting for," Smart said. "Everyone wanted it to be done quickly. But when it comes to developing a consensus between 190 technical specialists, it takes time."
Related posts: