This week, General Motors North American president Mark Reuss reinforced his company's commitment to electrified vehicles, but cited a need for better education to foster the breakthroughs needed for next-generation electric cars.
Speaking to a crowd of more than 500 automotive engineers and suppliers at the Society of Automotive Engineers' (SAE) Convergence conference in Detroit on Tuesday, Reuss said the US faces a critical need for engineers who can lay the foundation of innovation needed to transform the auto industry. He said:
The young people entering our colleges today are our advanced battery engineers, designers, and light metal experts of tomorrow. If they don't choose those paths or are ill-equipped to do so, we will have a skill shortage that will undermine our resurgence in smart manufacturing and technology.
During the conference's keynote address, Reuss said GM plans to pull the wraps off the company's next extended-range electric vehicle, the Cadillac ELR, at the North American International Auto Show in Detroit in January. Pre-production versions of the ELR, which will use a powertrain like the one in the Chevy Volt, will hit the streets in the fourth quarter of 2013. To build the vehicle, GM has already invested an additional $35 million in a production plant in Hamtramck, Mich., where the Volt is being built.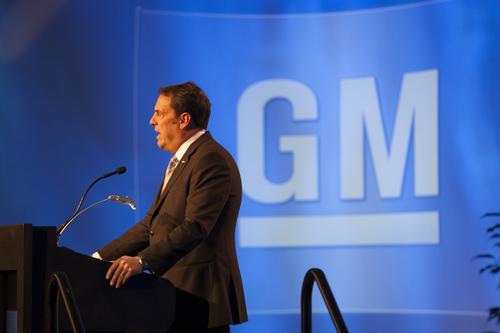 "Despite what the naysayers will tell you, this industry is headed toward electrification," Reuss said. He added, however, that "it may take a lot longer than we thought until the transformation is truly complete."
Reuss expressed concerns when talking about the availability of talent that's needed to make the transformation happen, however. He cited studies showing that US students ranked 21st in science literacy and 25th in math literacy among the top 30 developed countries. He also said that 68 percent of US eighth graders tested below proficient levels in math and reading. "That's frankly disgusting," he said. "This country simply cannot afford to fall any further behind the rest of the industrialized world in educating its young citizens."
Reuss added that the auto industry should be concerned that many of today's best young technical minds are more attracted to the Silicon Valley than to the Midwest Rust Belt. "We need to convince them that the auto industry is the most dynamic, exciting industry on earth," he said. Otherwise, "they will go to places like Google or Apple or SpaceX or elsewhere."
Reuss emphasized, however, that meeting the needs of tomorrow's auto industry is more than a matter of attracting top people. The industry will need both a depth and breadth of talent, he said. "It's really a simple path: Educate our young people as best we can to prepare them to succeed in these new opportunities," Reuss told the standing room crowd. "Let their innovation and their ideas lead us into a future that's electric."
Related posts: