The adoption of ultracapacitor technology is a growing trend in electronic applications. The presidential election year has shone a bright light on renewable energy as a solution for developing America's energy independence and boosting the economy. This has resulted in a spike in demand for cleaner technologies and energy storage initiatives in the electronics industry. In part because of this, more manufacturers are choosing ultracapacitors as an efficient energy source in various applications.
Accelerating ultracapacitor adoption in automotive applications
The performance, economics, and lifespan of ultracapacitors as compared to batteries are driving mainstream adoption of cleaner transportation by giving drivers what they want: faster recharging, better range, and lower costs. Ultracapacitors are up to 95 percent efficient in automotive applications, compared to about 70 percent for batteries, and ultracaps provide up to 10 times more power than batteries during acceleration. Buses, trucks, automobiles, and light rail use ultracapacitors for starting/stopping, recapturing and regenerating energy, cold-temperature performance, and other applications.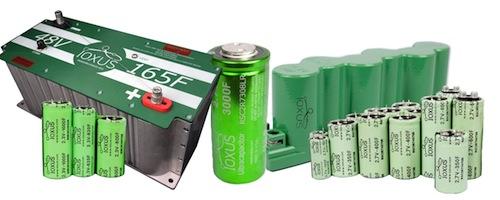 Start/stop technology saves fuel and reduces emissions by shutting off the engine when the vehicle is stopped in traffic. A quick burst of power from an ultracapacitor restarts the engine and moves the vehicle forward. Ultracapacitors are ideal for this type of application because of their quick recharging and high cycle life, even in cold environments.
Hybrid public buses enjoy the benefits of a hybridized energy storage system where an ultracapacitor provides power and a battery provides energy. With an ultracapacitor bank in place, buses recapture energy through regenerative braking. The braking process charges the ultracapacitor, which provides power to accelerate the vehicle. Using the ultracapacitors for acceleration allows the engine to provide a steady output of energy to maintain speeds, allowing for a smaller engine. This combination of ultracapacitors and a smaller engine drives up fuel efficiency by as much as 50 percent while reducing harmful emissions by as much as 75 percent.
Fast charging and cooling requirements in light rail and hybrid bus applications mean a low equivalent series resistance (ESR) is important. Using an ultracapacitor with a lower ESR decreases the system's heat, lowers the cooling requirements, and boosts overall efficiency, all while providing higher performance and lengthening the operating lifespan.
Improving AGV productivity
By using an ultracapacitor in place of a battery, automated guided vehicle (AGV) users receive maximum cost savings and efficiencies. Ultracapacitors eliminate the hassle of stopping operations mid-shift to replace or recharge batteries. For line-following applications, inductive charging can be employed, creating a continuous loop that never needs to stop for battery replacement. Because they charge within seconds and have a high cycle life, ultracapacitors extend the overall lifespan of the AGV's energy storage system and allow for continuous operation 24/7. An AGV using an ultracapacitor in its energy storage system lasts up to 10 years, or four times longer than one using just batteries.
For applications that require more than 10 minutes between charging opportunities, the ultracapacitor can be paired with a battery. This hybridized energy storage system provides both power and energy, creating a longer-lasting system.
AGVs also can use ultracapacitors for regenerative braking to capture energy that would be lost when the AGV stops to load or unload its payload. The captured energy powers the AGV's acceleration from one station to the next, increasing efficiency while decreasing the AGV's carbon footprint.