Dennis Wylie, product manager for the ControlLogix Family of Controllers at Rockwell Automation, said:
Customers are looking for more capabilities and are also integrating more and different aspects of control into their systems. The focus is on providing total lower system costs, as well as the additional horsepower and capacity required for future generation products.
Wylie said condition monitoring is a market that Rockwell Automation is serving today, but these capabilities are not always part of systems users are implementing. Some companies are addressing condition monitoring, but it is often limited to specific applications such as large turbine systems, for example, where there are huge rotating devices and a failure could cause a catastrophic failure of the machine. Wylie told us:
Energy monitoring is also not a priority for most machine builders yet, but it is going to be a very important issue in the future. Network safety and OEE analysis are also areas where we see increasing interest and are focused to provide solutions for customers.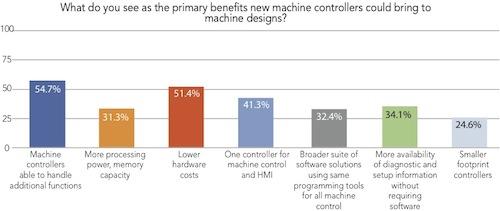 Muehlfellner added:
It's surprising that condition monitoring ranked highest on new capabilities but it shows a need for predictive maintenance to help reduce unscheduled downtime and maintenance costs. But the key to increased adoption of this technology is for the suppliers to make it simple.

The typical solutions used today are often too expensive and complicated. The goal now is to mask the technology and make it simple for the machine builders to implement these capabilities. The same is true for networked safety, energy monitoring, and OEE analysis.
New machine control hardware features that proved to be most appealing from the survey results showed a focus on standard Ethernet ports for lower-end controllers (68.7 percent) and support for multiple HMIs on machines (32.4 percent). Other ease-of-use features that were spotlighted included all software contained on removable solid state Flash memory (46.9 percent) and automatic recognition and configuration of replacement hardware (52 percent). Fewer respondents were interested in the availability of high-pressure, washdown, IP69K-rated operator panels (10.6 percent), and active (versus passive) power supplies for energy regeneration (15.6 percent).
One additional significant trend in machine control operator interfaces is increased interest in multi-touch technology for new panels. When asked what value these panels (similar to an iPad) would provide for machinery, respondents identified appealing to a new generation of workforce that's growing up using these devices (32.4 percent); a more intuitive, flexible user experience (29.1 percent); keyboardless, mouseless operation (16.8 percent); faster navigation (12.3 percent); and ability to zoom in on graphics (9.5 percent), as key benefits.




0
In the oil and gas industry, it's paramount that one pays attention to the accuracy of his level and temperature instrumentation, particularly within processing plants.

2
Contributing editor Cabe Atwell developed a Raspberry Pi and Arduino-based remote network fish tank control for his goldfish, Goldie Fishwater.

9
Are they robots or androids? We're not exactly sure. Each talking, gesturing Geminoid looks exactly like a real individual, starting with their creator, professor Hiroshi Ishiguro of Osaka University in Japan.

1
Hybrid vehicle engineers may now have a way to do hardware-in-the-loop simulation testing, instead of physical dynamometer testing, on the electric motors that propel their cars.

9
NASA is developing Project Morpheus, a vehicle that can lift off and set itself down on planetary surfaces.


LATEST ARCHIVED BROADCAST
For industrial control applications, or even a simple assembly line, that machine can go almost 24/7 without a break. But what happens when the task is a little more complex? That's where the "smart" machine would come in. The smart machine is one that has some simple (or complex in some cases) processing capability to be able to adapt to changing conditions. Such machines are suited for a host of applications, including automotive, aerospace, defense, medical, computers and electronics, telecommunications, consumer goods, and so on. This discussion will examine what's possible with smart machines, and what tradeoffs need to be made to implement such a solution.



Datasheets.com Parts Search
185 million searchable parts
(please enter a part number or hit search to begin)