The US Department of Transportation (DOT) launched the first big test of vehicle-to-vehicle (V2V) and vehicle-to-infrastructure (V2I) technologies last week, equipping nearly 3,000 cars, trucks, and buses in Michigan with modules that might one day prevent up to 80 percent of the crashes on American roadways.
The pilot program will enable vehicles to "talk" to one another, as well as to traffic lights and stop signs, as a means of heading off crashes, detecting blind spots, preventing dangerous lane changes, and improving traffic flow. "This cutting-edge technology offers real promise for improving both the safety and efficiency of our roads," said US Transportation Secretary Ray LaHood, in a statement at the pilot launch in Ann Arbor, Mich., last week.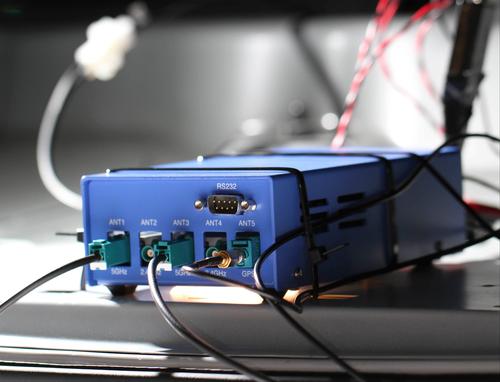 The one-year test will show whether V2V and V2I will indeed be capable of reducing crashes as predicted. Many automotive experts, including those at the National Highway Traffic Safety Administration (NHTSA), have said the new communication technologies will save more lives than seat belts, airbags, and stability control systems, combined. Experts are divided, however, on whether the technology will require so-called "critical mass" -- in other words, whether all cars will need to be equipped with it in order to provide benefits for anyone.
"As soon as we get a wealth of users, we'll be able to find out what the technology can do and what its limitations are," Dave McNamara, an automotive consultant and president of McNamara Technology Solutions, told us.
Automotive suppliers are already lining up to provide wireless transceivers and GPS systems if V2V and V2I take off. On its Website, DOT cited four companies as part of its pilot program. Cohda Wireless will work with tier-one suppliers Delphi Automotive and Visteon, while Denso International of America will also supply technology.
V2V and V2I works by employing a dedicated short-range communication (DSRC) system operating at 5.9 GHz. The DSRC system consists mostly of transceiver boards for vehicles, traffic lights, stop signs, and roadway modules. Notebook-sized infrastructure boxes for outdoor environments might be slightly larger than those onboard the vehicles, mainly because the electronics would need to be contained in waterproof enclosures. But all printed circuit boards would be small, possibly measuring just 3 inch x 2 inch x 1 inch.