Salary and satisfaction go hand in hand. Those who said they are extremely or very satisfied with their job are making the highest average salary ($101,773), with a bonus of $13,389. By comparison, the average salary was $92,348 for engineers who are somewhat satisfied and $81,926 for those who are not very or not at all satisfied.
When it comes to how challenging their job is, 52 percent said their job is extremely or very challenging. Factors contributing to the daily challenge include workload, balancing work with personal life, and keeping up with technology. Compared to two years ago, 42 percent said their job is now more stressful, and 44 percent said their stress level has stayed the same.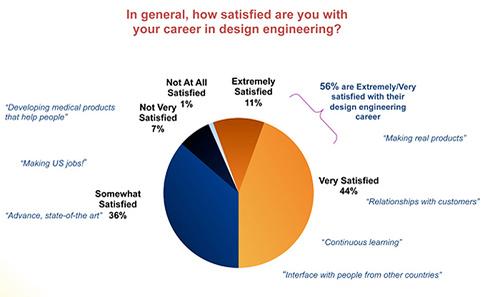 When discussing job security, 23 percent of engineers said they are extremely or very concerned, while 42 percent said they are somewhat concerned. On the other end of the spectrum, 6 percent said they are not concerned at all. Their comments included "There are plenty of jobs out there for good engineers" and "If I become unemployed I will find another job." The remaining 30 percent said they are not very concerned about their job security.
Forty-four percent of the engineers said their company has added personnel in the past 12 months, while 27 percent said they have seen layoffs or downsizing in the last six months. The average workforce reduction reported by engineers was 15 percent; the average reported workforce increase was 14 percent.
The grass isn't always greener on the other side, but it never hurts to keep your eyes open for new opportunities, which is exactly what 33 percent of engineers are doing. Fifty-nine percent of engineers said recruiters have contacted them in the past year. On the contrary, 44 percent say they are perfectly happy with their position.