Turbochargers, which have long been used in heavy trucking, are increasingly being used in light trucks and autos to deliver the power of a V8 engine in a V6, resulting in lighter vehicles and better fuel economy. But V-Band Clamps, which seal off hot exhaust so the turbocharger can force compressed air into the intake, have presented a challenge when traditional fastening nuts loosen in the extreme heat and vibration turbocharger environment.
Preventing exhaust leaks With exhaust temperatures reaching up to 1,300F, the V-Band Clamp assembly could quickly be compromised if exhaust leaks. With component temperatures reaching up to 1,000F around the turbocharger, nut-locking features using adhesive or nylon rings would burn up.
Vibrational fastener loosening, already a challenge in well-supported engine blocks, can be a greater challenge in turbochargers, which typically hang off the side of the engine, with less structural support, and consequently, more vibration.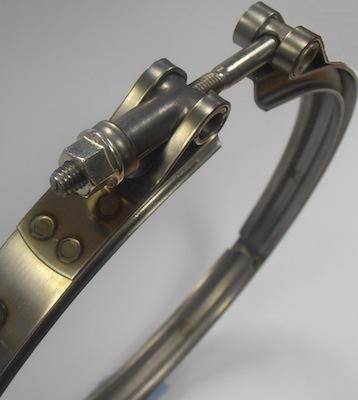 Since V-Clamp nuts must run down the length of the long T-bolt stud, which can be six to eight times the body diameter of the nut, prevailing torque-type locking features can gall and wear out before the nut is properly seated. If this happens on the assembly line, each incident can cost up to $2,000 to stop the line, remove the engine, and remanufacture the V-Band Clamp assembly. For this reason, plain metal V-Clamp nuts are typically used -- but as soon as they lose tension they can start to back off, which can raise performance and warranty issues.
Spiralock's V-Band Clamp Nut has a unique internal thread form that is helping the trucking and auto industries withstand extreme turbocharger heat and vibration problems, while reducing cost, assembly, and warranty issues. This reengineered thread form adds a 30-degree wedge ramp at the root of the thread, which mates with standard 60-degree male thread fasteners.
The wedge ramp allows the bolt to spin freely relative to female threads until clamp load is applied. The crests of the standard male thread form are then drawn tightly against the wedge ramp, eliminating radial clearances and creating a continuous spiral line contact along the entire length of the thread engagement. This continuous line contact spreads the clamp force more evenly over all engaged threads, improving resistance to vibrational loosening, axial-torsional loading, joint fatigue, and temperature extremes.
When a major heavy truck turbo manufacturer was breaking T-bolts driving a clincher nut that galled on a V-Band Clamp assembly previously, they had to take the turbo off the production line to repair. Switching to the free-spinning Spiralock V-Band Clamp saved them the loss of about 15 V-Band Clamp assemblies per day at the plant, eliminating related production downtime and remanufacturing cost.
With higher heat in gasoline engines than in diesel engines, the US auto fleet may benefit the most from Spiralock's V-Band Clamp Nut. It's already being used on one of the first applications of dual turbo engines in light trucks.
Related posts: