This approach is being applied to a wide range of machines including inline robotics for pick-and-place operations, palletizing, and high-speed assembly. Achieving motion performance is generally not a problem, even though kinematics is processing-intensive compared to other motion algorithms. One reason is that the PAC controllers have a variety of platforms and options for high performance, so processing concerns have not been an issue when controlling the robot arms.
But one of the advantages of integrating the robot arm directly is that it makes it easier to integrate the robot with other automation functions such as synchronizing with a conveyor, for example, or a vision system for part detection. All of those resources can be brought into the PAC controller, and then everything can be effectively managed from a single controller.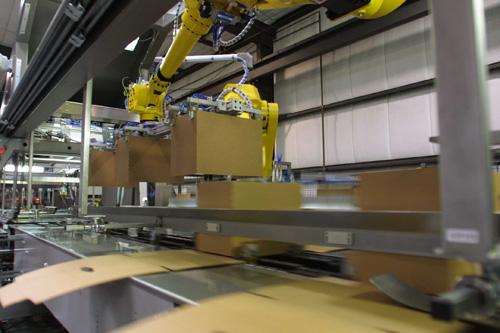 The base-level motion control command set can be used to develop an application to control the robot. But in addition, AOI Libraries provide pre-written EOI screens that can be used to directly set up, configure, and calibrate the operation of the robot. Low-level programming tools can also be used to develop applications. "With broader adoption, robotics are moving into a larger set of machines, improving the level of integration of robot technology compared to the past," Hirschinger said.
"Typically, robots have been deployed as standalone applications with a standalone controller, or using a discrete or networked interface to the line controller. Now there is a third option where the robot is fully integrated directly into the line controller. The line controller owns and operates the drives directly controlling the robot, in addition to any other ancillary equipment needed, such as a vision system. The robot is viewed as an automation resource that is fully integrated and programmed using the line controller."
Integrating multiple robot cells
"What we are seeing is the potential to integrate multiple robot cells with a single controller, plus the ability to integrate additional equipment controlling wherever the product is going to or coming from using the same controller," Fernando Martinez, OEM sales manager for printing and packaging at Bosch Rexroth, told us.
"An IEC-compliant PLC motion controller and the robot controller are integrated together into one box. The controller can run up to 16 robotic cells at once, with over 100 kinematic motions stored in the controller for use depending on the application. Whether the application is a three-axis Delta robot, a six-axis articulated robot, or SCARA-type robot, all of the kinematics are pre-defined in the controller."