Engineers at Texas Instruments have devised a way to transform the home bathroom scale into an advanced body composition system worthy of a health club or doctor's office. Using a new analog front end (AFE) chip, the engineers say, future home scales will be able to distinguish between a person's fat and muscle mass for a fraction of the cost of the systems being used in professional settings.
"We're trying to bring the performance down to the consumer level," Karthik Soundar, systems application manager for health and fitness at TI, told us. "That way, anybody could use it at home and get a lot more information than a typical scale would offer today."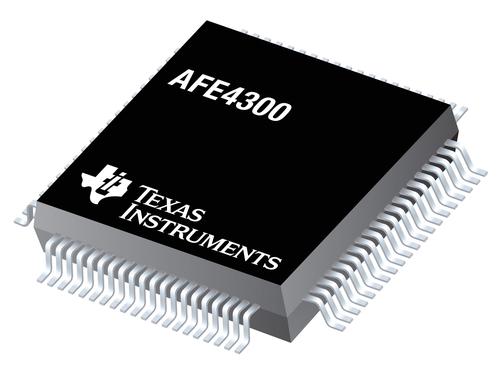 The key to the new technology is the development of TI's AFE4300 chip, an analog front end that lets a scale make the bioelectrical impedance measurements needed to distinguish muscle from fat. In such measurements, the system pumps a small amount of current (less than a milliamp) into a hand or foot through an electrode and then measures the impedance after the current travels through the body to the other hand or foot. The method is based on the fact that electrical current passes differently through muscle than it does through fat. Electrodes for such products are typically incorporated on the top surface of the scale for foot measurements, or on a pair of handles for hand measurements.
The AFE4300 contains two separate signal chains. One targets weight measurement, and the other targets body composition analysis. A 16-bit analog-to-digital converter is multiplexed between them. The device's multiple channels enable impedance measurements between body extremities for a full picture of a person's fat and muscle mass.
TI says the chip will let bathroom scale manufacturers add high-end measurement capabilities to products that sell for $100 to $200. In contrast, today's low-end body composition systems sell for $200 or more, and high-end professional machines often run between $2,000 and $5,000.
The technology would essentially serve as an upgrade for the low-end bathroom scales that offer weight measurement and body mass index (BMI) calculations but cannot distinguish fat from muscle, Sondar said. "A lot of machines just have a weight scale and maybe a body mass index, because BMI is just a calculation and doesn't require any additional hardware."
He said the technology could incorporate advanced features, such as the ability to calculate total body water, which gives an indication of hydration. The chip is also expected to find a place in gaming applications such as Nintendo's Wii Fit. "We are definitely targeting the consumer market here," Sondar said. "We believe that a person who's reasonably serious about health would be willing to spend $100 or $200 for these features."
Related posts: