Using a healthy dose of modern-day electronics, engineers have created a pepper spray gun that automatically measures, shoots, and stops attackers, even when used by novices.
The new technology addresses an old dilemma facing those who use pepper spray guns for the first time. It creates a mist of droplets that are neither too big nor too small and can be effectively inhaled into the lungs in a way that temporarily debilitates people. "With this, all you have to do is pull the trigger and it sends out the right amount of pepper at the right distance," Roland Ouellette, founder of SAM Training LLC, told us. "It solves the problem of people not knowing how to use it properly."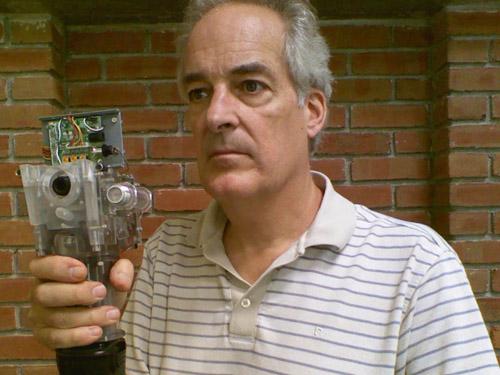 Known as Restrain and Identify, or R-I-D, the new device employs a combination of electronics and microfluidics to achieve the goal of making pepper spray guns more successful. Using an ultrasonic (or radar) sensor, it measures the distance to the perpetrator, sends a signal to a microcontroller (MCU), decides what pressure to employ, then dispenses the correct pepper spray pulse through the proprietary microfluidics system.
To enable users to call for help, it even incorporates an RF transceiver and a pair of cameras, thus enabling it to stream video to the user's private security company. Finally, R-I-D employs GPS (global positioning system) technology to provide its location.
"It's the ultimate exercise in mechatronics design," said David Bonneau, CEO of Enginasion, in an interview. Enginasion developed the system from Ouellette's initial ideas. "It needs great optics, great electronics, and great mechanics."
Enginasion, which specializes in product development, wrote its own software operating system for the gun, and chose the MCU, sensor, and transceiver hardware. It then teamed with an unnamed "microfluidics expert" to design the pneumatic spray system, making it work in closed-loop fashion with the onboard electronics.