Skiers, snowboarders, and snowmobilers now have a real-time way of tracking their performance and capturing video, thanks to a new head-up display designed to fit inside a set of snow goggles.
The micro-display, used in goggles built by six different manufacturers, also incorporates GPS and Bluetooth technology, and has the ability to pair with Android smartphones for additional real-time connections. "While you're skiing, you can take a glance with your right eye to see how fast you're going or to look at a map," Xichi Zheng, director of systems engineering for Recon Instruments, told us. "You can also be notified when a call comes in from your smartphone."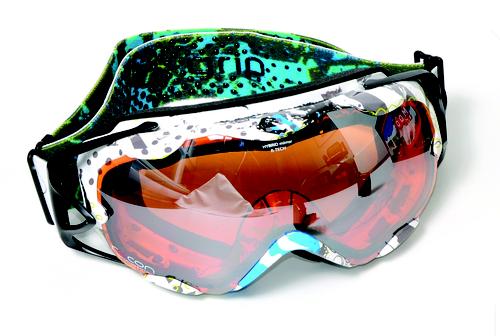 Known as the Recon Micro Optics Display (MOD), the new product was developed by Recon engineers over a 15-month period and introduced at the Consumer Electronics Show earlier this year. It uses a 32-bit ARM computing platform and incorporates a tiny lithium polymer battery that enables it to reside inside a normal-sized set of ski goggles.
The key to the MOD display is its ability to run off a small battery and still offer a six-hour battery life. To do that, Recon engineers employed a Sitara AM3703 ARM Cortex A8 microprocessor from Texas Instruments (TI), running at 600 MHz. The Sitara enables the display to process video streams from a head-mounted third-party camera, while providing on-chip memory for storage of photos and videos. It's also capable of displaying speed and temperature from the goggle's onboard sensors.
"Our system is unique in that it had to maintain a constant display, and still refresh once per second, all while consuming low power," Zheng said. "The platform was robust enough to allow us to do that."