Concerns over distraction in the vehicle may be hastening the auto industry's move toward semi-autonomous driving. A spate of recent studies indicates that risky behavior by drivers is on the rise, while new safety technologies, such as auto-braking, are reducing the frequency and severity of crashes. Moreover, the combination of those risky behaviors and technological successes seems to be paving the way for more advanced safety features, such as semi-autonomous steering.
"We know that people call and text a lot while they're driving," Jeremy Salinger, innovation program manager for General Motors, told us. "We're just trying to make the car safer, given the fact that they're doing these sorts of things."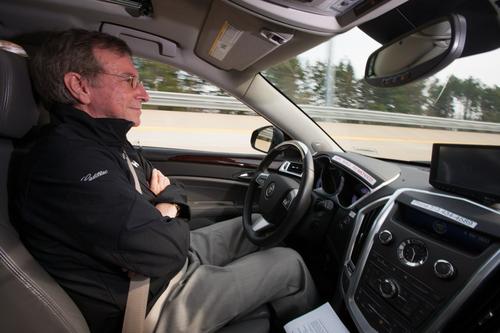 Indeed, the new technologies appear to be boosting safety. A recent study by the Highway Loss Data Institute (HLDI) showed that forward collision avoidance systems, particularly those that can brake autonomously, are reducing crashes. On Acura, Mercedes-Benz, and Volvo vehicles, property damage liability frequencies were 14 percent lower than on vehicles without autonomous braking, the HLDI study said.
Autonomous braking, however, may only be the tip of the trend. GM recently announced that it is ratcheting up its semi-autonomous effort by road-testing a technology called "Super Cruise," capable of fully automatic braking, steering, and lane-centering.
Interest in such systems appears to be partially due to the increased use of smartphones and other electronic technologies in the car. A 2011 study by the AAA Foundation for Traffic Safety revealed that 68 percent of drivers admitted to having talked on a cellphone while driving and 35 percent admitted to reading emails or typing text messages while driving. Ironically, 95 percent of those surveyed said they viewed both of those chores as serious threats to their own personal safety, the study showed. "It's not the only reason we're considering semi-autonomous technology, but it's an added incentive," Salinger said.
Before putting next-level technology on the road, however, GM engineers are studying its effect on the attentiveness of drivers. The giant automaker recently teamed with Virginia Tech University to examine Super Cruise technology in a driving simulator and in vehicles on a GM test track in Michigan. The company's engineers hope to use the results to create guidelines for future semi-autonomous systems. "If you're not careful in the way you implement this technology, people will be less attentive to the road than they are now," Salinger said. "But if you're careful in the way you do it, you won't degrade their attentiveness."
GM's goal is for the Super Cruise technology to be available in selected Cadillac vehicles by mid-decade. The idea of the technology is to ease the driver's workload -- on long road trips and in bumper-to-bumper traffic -- by relying on fusion of radar, ultrasonic sensors, cameras, and GPS technology.
Salinger said that many consumers have indicated in focus groups that they aren't interested in relinquishing control to automatic braking and steering systems, despite increased use of smartphones in vehicles. "There are those who love to drive and don't want to give up control," he said. "And then there are those for whom driving itself is the distraction. On this matter, we know that the population is not homogeneous."
Related posts: