Soldiers in Afghanistan will soon receive new power generators that cut fuel consumption as part of the Army's efforts to create more efficient ways of bringing power to soldiers in the field and protect them from dangerous fuel-retrieval missions.
The generators, called Advanced Medium Mobile Power Systems (AMMPS), range in size from 5kW to 60kW. As well as being up to 21 percent more fuel efficient, they also weigh 10 percent less than generators currently used in the field.
The Army said the AMMPS, which are replacing Tactical Quiet Generators (TQGs), are about 50 percent more dependable than predecessors, and will help reduce 346,000 hours of maintenance manpower per year in Afghanistan once they are deployed.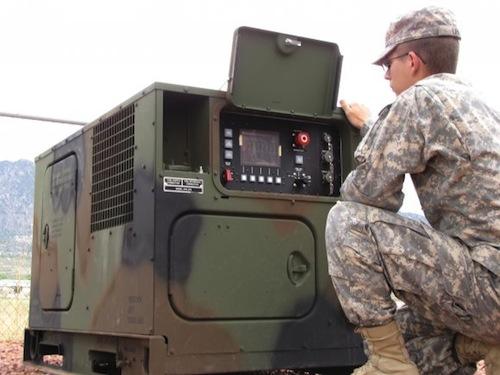 While on average TQGs use about 1.51 gallons per fuel an hour, AMMPS use 1.23 gallons, a 15 percent improvement, though they are capable of up to a 21 percent improvement. They also can operate in temperatures between –50°F to 135°F, whereas TQGs operate generally only up to 120°F. The new generators also offer reliability of 750 hours versus the 500 to 600 hours of TQGs, and they are compliant with EPA regulations, whereas TQGs are not, according to the Army.
The Army initially will deliver 81 AMMPS to Afghanistan, which will act as a test model for future deployments. Over the next year, the military plans to deliver about 1,600 more of the fuel-efficient generators to the field.
The Department of Defense (DoD) is engaged in a number of efforts to cut back on fuel consumption, as well as use alternative fuels over traditional fossil fuels to find more cost-effective and efficient ways to get power to soldiers.
In addition to developing AMMPS, the Army also has designed another prototype for a more fuel-efficient generator that also weighs 1.5 tons less than those currently being used by the military. The 100kW generator, which the Army has no plans yet to mass produce, is light enough to be towed by a Humvee but sturdy enough to go off-road.
The Army is also experimenting with integrating power generation directly within a Humvee-like vehicle itself. Earlier this year, the military publicly demonstrated a concept combat vehicle -- the Fuel Efficient ground vehicle Demonstrator (Bravo version), or FED Bravo -- that's been designed not only for fuel efficiency, but that also can act as a generator in remote locations.
Related posts: