Fresh pizza may be coming to a vending machine near you. The Let's Pizza machine can do what no mechanized predecessor has done. It kneads and unrolls dough, stamps it flat, adds fresh ingredients, cooks, boxes, and delivers a pizza -- all in less than three minutes. Its distributor, A1 Concepts of the Netherlands, plans to put the machines in airports, malls, theme parks, and, yes, colleges.
"Everything about these pizzas is fresh," Ronald Rammers, CEO of A1 Concepts, told us. "There's a bag of flour, specially mixed, that comes straight from Italy. We combine it with fresh water, fresh sauce, and fresh toppings."
Click on the photo below for a Let's Pizza slideshow.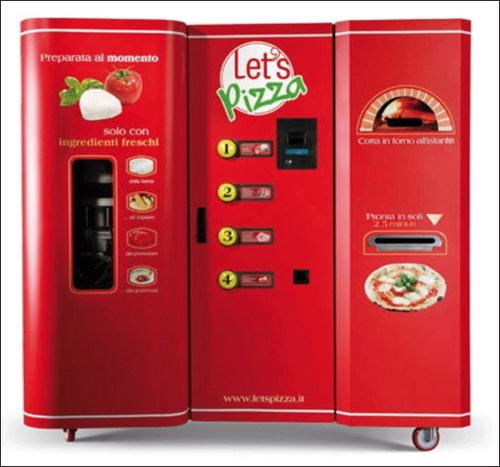 The Italian inventor Claudio Torghele spent six years perfecting the mechanized vendor, with the idea that it would do more than simply zap a frozen pizza with microwaves. His machine mechanically mixes the dough from bags of water and flour and then passes it through a series of shaping and pre-heating stations that create a flattened and partially baked pizza base. A conveying tray moves the preheated crust beneath metering devices that squirt on the tomato sauce. Other distribution components add cheese, sausage, ham, and fresh vegetables. The machine then moves its product to an infrared oven for about a minute before putting it in a cardboard container and sliding it through a slot in the front of the machine.
Torghele told us he conjured up the idea while visiting California and seeing the emphasis on fast food. His vision originally called for a pasta machine. "After we started building it, we decided that pizza would be a more global product, so we changed it."



Nissan Motor Co. is taking the electric vehicle into new territory, rolling out an exotic-looking three-seat concept car that combines sustainability with race car-like performance.
3D visualization is helping us express information in a way that's more informative and easier to decipher.
A new service lets engineers and orthopedic surgeons design and 3D print highly accurate, patient-specific, orthopedic medical implants made of metal -- without owning a 3D printer. Using free, downloadable software, users can import ASCII and binary .STL files, design the implant, and send an encrypted design file to a third-party manufacturer.
Google is developing robots for manufacturing, assembly, and warehouse tasks.

7
When Dick Neubert discovered that his fireplace's heatilators lost heat when not in use, he created a gadget to rectify the situation.


LATEST ARCHIVED BROADCAST
For industrial control applications, or even a simple assembly line, that machine can go almost 24/7 without a break. But what happens when the task is a little more complex? That's where the "smart" machine would come in. The smart machine is one that has some simple (or complex in some cases) processing capability to be able to adapt to changing conditions. Such machines are suited for a host of applications, including automotive, aerospace, defense, medical, computers and electronics, telecommunications, consumer goods, and so on. This discussion will examine what's possible with smart machines, and what tradeoffs need to be made to implement such a solution.



Datasheets.com Parts Search
185 million searchable parts
(please enter a part number or hit search to begin)