The typical building automation system (BAS) used to be hardwired to achieve connectivity between a building's sensors and switches, which is common within building environments. Usually for your building retrofits, battery-powered devices were added next for those hard-to-wire locations. But then you would have higher labor costs to contend with in managing battery replacement, the added cost of the new battery, and disposal. These types of challenges reduced broad market adoption. Today BASs have evolved, and now there is energy-harvesting wireless technology. This tackles many of the challenges hardwired and battery-operated devices are still grappling with, and it brings maintenance-free wireless sensor solutions for use in buildings and industrial installations.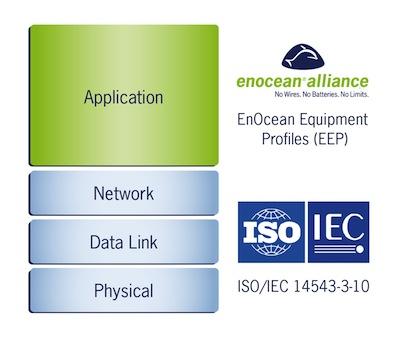 The International Electrotechnical Commission (IEC) has acknowledged the power of energy-harvesting technology, and as recently as March, it ratified the EnOcean radio protocol as an international standard. The ISO/IEC 14543-3-10 standard for wireless applications with ultra-low-power consumption is the first wireless standard that is also optimized for energy-harvesting solutions. This international standard sets the framework for achieving a fully interoperable, open wireless technology similar to such standards as Bluetooth and WiFi. The standard can be downloaded here.
There is a paradigm shift in the building automation industry in trying to eliminate costly installation challenges that have hindered buildings from being greener and more energy efficient. EnOcean tackled this challenge head-on in developing a bidirectional wireless protocol and a technology approach for building automation products (such as sensors, switches, and controllers) that are interoperable with one another, regardless of the manufacturer. It dives even deeper to achieve full interoperability by enabling other communication protocols such as TCP/IP. Technology is evolving quickly, and vendors and providers are finding it more beneficial to collaborate to bridge the connectivity gap in standardization and common communication protocols and design products using standards. Magnum Energy serves as an example, because the company collaborated and created wireless solutions that support integrators and building owners and gave them more energy management capabilities.




0
The brakes work just fine, but the brake sensor light has a life of its own.

7
A team of Colorado State University students has created a gadget that guides a remote control airplane through the sensors in a glove.

11
The Tesla Model S' performance in Consumer Reports tests was a major victory for electric cars, but a bigger challenge still lies ahead.

3
By refining topologies and using new fluid technology, Moog's new peak sine drive controller increases available power without increasing controller volume.

3
Lantronix Inc. has expanded its line of controllers for sensor networks with the release of a rugged controller that improves management of automation systems used in a number of industries, including manufacturing, oil and gas, and chemicals.


A quick look into the merger of two powerhouse 3D printing OEMs and the new leader in rapid prototyping solutions, Stratasys. The industrial revolution is now led by 3D printing and engineers are given the opportunity to fully maximize their design capabilities, reduce their time-to-market and functionally test prototypes cheaper, faster and easier. Bruce Bradshaw, Director of Marketing in North America, will explore the large product offering and variety of materials that will help CAD designers articulate their product design with actual, physical prototypes. This broadcast will dive deep into technical information including application specific stories from real world customers and their experiences with 3D printing. 3D Printing is




Datasheets.com Parts Search
185 million searchable parts
(please enter a part number or hit search to begin)