Researchers from the US Navy and the private sector have teamed up to design a new mobile photovoltaic system for charging batteries and supplying supplemental electricity. The system is meant to help the Marine Corp reduce fuel consumption.
Photovoltaic systems generate power by converting solar radiation into direct current electricity. They are part of the host of efforts by the military to use renewable energy sources, including new energy systems that use solar and wind power, which we've discussed before.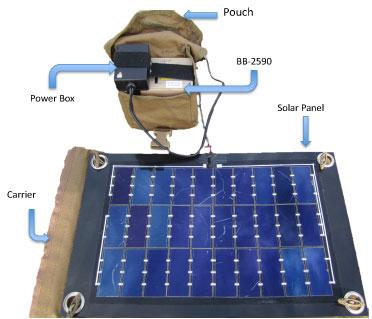 Scientists at the US Naval Research Laboratory (NRL) Electronics Science and Technology Division are collaborating with MicroLinnk Devices, Design Intelligence Inc., and the USMC Expeditionary Energy Office to develop a solar power prototype that can recharge standard-issue lithium-ion batteries in the field.
The Defense Department says the system contains an array of single-junction solar cells with a power conditioning circuit, which maximizes array power production and can charge a military-issue, high-capacity, rechargeable lithium-ion battery (BB-2590). The system is designed to fit into a standard-issue backpack and includes a 10.5-inch x 15.5-inch solar panel that can generate 11W under 1-sun air mass of 1.5 illumination. The arrays take advantage of new technology that allows for a light-to-electricity conversion efficiency rate as high as 30 percent. The goal is not only to reduce energy consumption by 50 percent per Marine by using alternative sources of power, but also to lower the weight of batteries they carry by 200 pounds.
"One of the most significant challenges currently facing the Marine Corps is the need to supply sufficient electricity to individual Marines in forward operating bases," Robert Walters, head of the NRL Solid State Devices Branch, said in a press release. "Mobile photovoltaics are a technology that can address these needs by leveraging emerging, flexible, high-efficiency photovoltaic technology."
As we've reported before, the NRL is exploring other innovative uses for voltaics, including the development of solar cells that can operate electronic sensors under water at depths of up to 9m (about 30 feet). The cells are based on gallium indium phosphide, a material that performs better in low-light conditions than materials used in above-ground solar panels.
Related posts: