A new, low-power, MEMS-based accelerometer could boost long-term sensing capabilities in applications ranging from utility metering and livestock tracking to elderly monitoring and head trauma recognition. The device, introduced by Analog Devices Inc. (ADI) at the recent Sensors Expo, is the electronics industry's latest attempt to find low-power sensing solutions for a new breed of wireless network applications.
"It's important in applications where lifetime matters -- applications where you may want the accelerometer turned on for months or even years," Bill Murphy, product line director for ADI's MEMS/Sensors Group, told us.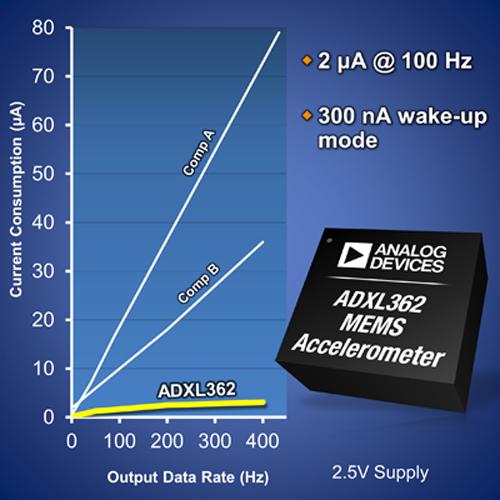 Known as the ADXL362, the three-axis accelerometer employs MEMS (micro-electro-mechanical system) sensing technology, enabling small size and low-power operation. ADI engineers say it operates at 300nA in motion-sensing wakeup mode, reportedly using 60 percent less electrical current than competitors. In full measurement mode, they say, it consumes 2µA at a 100Hz data rate -- said to be 80 percent less than competitors. The sensing technology fits in a package less than an eighth of an inch on a side.
Low-power wireless sensor networks have gained popularity recently because they offer the opportunity for real-time, 24-hour-a-day monitoring of large systems. Civil engineers, for example, have recently begun implementing real-time sensing of stresses in bridges. Similarly, utility companies have discovered wireless sensing networks as a means to watch usage of natural gas and electricity on a micro-level. And livestock enterprises are increasingly using wireless networks as a means of tracking large animal herds. Low-power sensors are important in such applications because they eliminate the need to frequently change batteries.
"If you have 35,000 cows, that's a lot of batteries to change," Murphy says. "Ideally, you want the sensor to last the entire life of the cow." He said that the ability to sense over such long periods is based, not only low current consumption, but on the ability to "know" when to sense.
The new device addresses that issue by incorporating a sample activity detection function that accurately distinguishes between different kinds of motion. As a result, it doesn't turn on unnecessarily and therefore conserves battery life. "It can take a few samples per second and, if there's no activity, go into a very deep sleep so it uses less current."
The ADXL362 is being employed in the Defense Advanced Research Projects Agency's (DARPA's) Blast Gauge -- a screening tool for military medical personnel performing triage on soldiers exposed to blasts. It's also being targeted at monitoring systems capable of alerting family members to the status of elderly relatives via the Internet.
"If you can use a very small amount of current and communicate only on an as-needed basis, then you can solve a lot of problems in wireless networks," says Murphy.
Related posts: