Boeing has been experimenting with biofuel to power jets for some time, and now another international test flight is in the works with Air China.
Terrance Scott, a spokesman for Boeing, told us that it has completed a number of biofuel flights since 2008 with a variety of airlines as part of its efforts to design more fuel-efficient and environmentally friendly airplanes. He would not say when the international test flight would take place, but he did say the specifics would be forthcoming from Air China.
Boeing and Air China have already completed a domestic flight using a combination of biofuel and jet fuel that went "very well," Scott said.
Since approving biofuel for commercial use last summer, the airline industry has been in the nascent stages of exploring the use of biofuel to support green-energy goals and cut fuel costs, which are stifling airlines. So far more than 1,500 commercial flights using biofuel have occurred, according to Scott.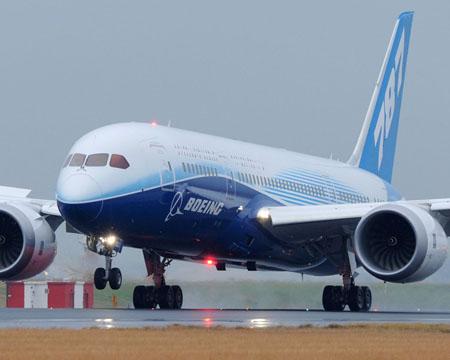 Many of the biofuel flights by carriers like Alaska Airlines and Continental Airlines have been short. However, through its work with international airlines, Boeing is laying the foundation for more long-haul flights using biofuel, which can be made from a number of natural elements. Last year, for instance, Air China completed a flight using biofuel produced by PetroChina with oil extracted from the seeds of the jatropha, a locally grown shrub.
Scott would not say what kind of biofuel will power the upcoming Air China international flight, but a jatropha-based fuel is likely to be used once again. Biofuels can also use as their base more standard corn- or sunflower-based cooking oils, as well as oils from a variety of other plants, including soy, rapeseed, mahua, mustard, flax, palm, hemp, or algae.
In April, we reported on a Boeing 787 Dreamliner flight using biofuel across the Pacific Ocean. The flight, a collaboration between Boeing and All Nippon Airways, originated at Boeing's Delivery Center in Everett, Wash., and terminated at Tokyo Haneda Airport. Boeing said the biofuel (made mainly of cooking oil) and the fuel-efficient design of the Dreamliner combined to lower CO2 emissions on that flight by 30 percent. The biofuel contributed about 10 percent of that reduction, while design efficiencies contributed about 20 percent.
Related posts: