Army scientists have developed a new material that could enable lithium-ion batteries to perform at an unprecedented five volts as part of research to create improved power sources for the military.
Researchers at the US Army Research Laboratory have for years been studying how the components of batteries interact to develop a new material that, when added to a battery's electrolyte, increases the energy density of batteries 30 percent, according to the Army. The material is one of several additives electrochemical researchers at the lab have discovered.
The breakthrough is part of ongoing work by the Army to reduce the amount of weight soldiers carry by reducing the weight of power sources such as batteries, Dr. Kang Xu, electrochemistry branch, US Army Research Laboratory, told Design News.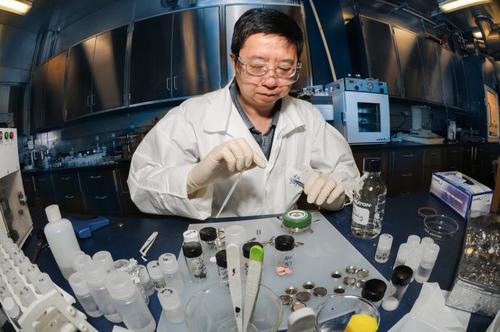 Soldiers can carry up to 32lb of batteries in their packs, and the lithium-ion batteries they use now are typically non-rechargeable and contain 4.1 to 4.2 volt cells, Xu said. He and other researchers have discovered an additive that increases the energy of these batteries into the 5-volt range.
The new material, designed and synthesized by researchers, can break down into small F-Alkyl radicals that deactivate the oxidative catalytic centers on cathode surfaces. This process, called passivation, "prevents the bulk electrolyte components (salt, solvents) to be oxidized, and stabilizes the battery operation without these parasitic reactions," allowing for less weight and more energy from the batteries.
The batteries now operate with two different cathode chemistries -- 4.6V (LiNiMnO4) and 4.8V (LiCoPO4) -- resulting in about a 30 percent energy density increase. However, the actual increase is dependent on a number of factors, including "the weight of packaging, amount of electrolytes used, and other parasitic weights," Xu said.
"In general, increases in energy density are equivalent to a reduction of weight if the same amount of energy is considered. So the 5V battery can lead to either more energy in the same battery pack or less weight for a pack with the same energy."
So far, Army researchers have come up with eight additives belonging to three different families of compounds and are working on patents for several of them. All told, the work is a great leap forward that represents a "major energy increase," Xu said. However, "there is still a long way for 5V batteries to make it into soldiers' packs."
Related posts: