Ever had to move a notebook computer off your lap because it was too hot? Well, the Department of Defense (DoD) is hoping to solve this type of electronics heating problem at the component design level by creating better thermal management for electronic equipment.
Through DARPA's Thermal Management Technologies (TMT) program -- and the Intrachip/Interchip Enhanced Cooling (ICECool) subprogram in particular -- the military's research agency hopes to inject thermal management into the earliest stages of electronic design.
The problem with the design of electronic components today is that their increasingly small size with higher energy density is making them generate more heat and dissipate less power, according to DARPA.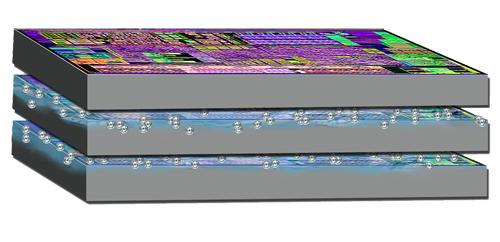 Current component design allows for remote cooling, in which heat is conducted away from components before being dissipated. However, these solutions add weight and volume to systems which, for the DoD, is impractical given the often mobile nature of tasks demanded of military electronics. To remedy this, DARPA researchers aim to build cooling directly into the component fabric that powers electronics that would cool them more directly, a process similar to how a car engine is cooled, Avram Bar-Cohen, DARPA program manager, said in the press release:
Think of current electronics thermal management methods as the cooling system in your car. Water is pumped directly through the engine block and carries the absorbed heat through hoses back to the radiator to be cooled. By analogy, ICECool seeks technologies that would put the cooling fluid directly into the electronic 'engine.'
Instead of coming through water pumped through a radiator, however, the component cooling would come from microfluid cooling agents flowing through microchannels designed and built directly into chips, substrates, or packages, Bar-Cohen said. Researchers will also look into the thermal and fluid flow characteristics of both small- and large-scale electronics systems to design an embedded cooling system. The agency hopes the end result will allow for the design and development of smaller electronics system, which will provide more mobility for soldiers on the go, Thomas Lee, director of DARPA's Microsystems Technology Office, said in the press release.
DARPA is currently seeking ideas for the ICECool Fundamentals program to demonstrate the microfabrication and evaporative cooling processes that will enable cooling to be directly embedded into components.
Examples of research the agency wants to explore include intrachip/interchip solutions that bring microchannels and micropores into the design and fabrication of chips, as well as interchip solutions for chip stacks.
Related posts: