Boeing has tested a next-generation drone that the US military hopes will be one of its most high-flying and powerful vehicles one day for long-range intelligence, surveillance, and reconnaissance (ISR) missions.
The Phantom Eye unmanned airborne system took flight on June 1 at NASA's Dryden Flight Research Center at Edwards Air Force Base in California. Boeing said it flew for 28 minutes to a top altitude of 4,080 feet. The drone reached a cruising altitude of 62 knots before its descent and slightly bumpy landing, which resulted in a broken landing gear.
Engineers flight tested the craft only after performing a series of taxi tests in April to ensure other aspects of the system -- including ground guidance, navigation and control, mission planning, pilot interface, and operational procedures -- were functioning properly. The drone has a 150-foot wingspan and can carry 450 pounds of ISR sensors, cameras, and other equipment to perform its missions.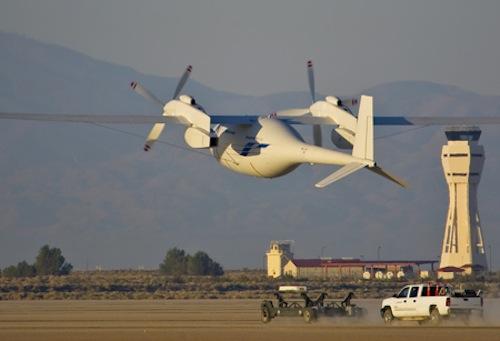 The first Phantom Eye flight test was just a preview of what Boeing and the US government hope the drone can do. According to Boeing, a liquid-hydrogen propulsion system will allow it to perform persistent monitoring for four days at a ceiling altitude of 65,000 feet. The propulsion system also is environmentally friendly, with water as its only byproduct, the company said.
However, the ambitious plans for the drone are still years away. Boeing had planned to fly the Phantom Eye earlier this year but pushed that date back due to technical issues. And the initial flight was meant to last eight hours. Nevertheless, Drew Mallow, program manager for the Phantom Eye, said in a press release that the flight "demonstrated Phantom Eye's initial handling and maneuverability capabilities," and that the next test flight will send it to an even higher altitude for a longer period.
The Phantom Eye is also part of a rapid prototyping program that allows Boeing to use technologies developed for the drone in future ISR, strike, and bomber programs, Mallow said.
Boeing has manufactured a number of unmanned aerial vehicles (UAVs), including the A160T Hummingbird, H-6U Unmanned Little Bird, S-100 Camcopter, Integrator, and ScanEagle. UAVs have been widely used in engagements in Iraq and Afghanistan and (as we've reported before) are a continuing focus of design and development efforts by the military.
The Navy is exploring the design and development of other unmanned systems, including surface vessels and undersea crafts.
Related posts: