Using new, lower-cost technologies, light-emitting diodes (LEDs) may be poised to compete with traditional sources in yet another major lighting market.
Cree Inc. has developed the XSP Series of streelights that employ new optics, drivers, and housings to double its lumens per dollar. Cree hopes to use this series to compete more directly with sodium vapor technology providers. This could represent another big step forward for LED technology, which has already made inroads in televisions, aircraft, automobiles, signage, displays, and other applications.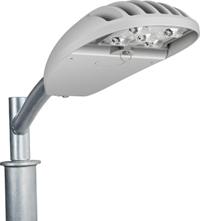 "By figuring out a different way to assemble the optics, we've made it a lot less expensive," Gary Trott, vice president of market development for Cree, told us. "The LEDs also have more light coming out of them, so we don't need as many."
The biggest reason for the higher lumens-per-dollar figure is the NanoOptic Precision Delivery Grid configuration, which dramatically reduces the number of optical assemblies that must be seated atop the LEDs, Trott said. In contrast with earlier generations of the company's streetlights, which used between 80 and 120 optical assemblies, the new streetlights employ just five. "That's a big contributor to our ability to boost the number of lumens per dollar."
Cree's new streetlights could reportedly sell for as little as $200, depending upon volume and power. The company says the new streetlights will use 50 percent less energy and last three times longer than sodium vapor lamps.