Using new, lower-cost technologies, light-emitting diodes (LEDs) may be poised to compete with traditional sources in yet another major lighting market.
Cree Inc. has developed the XSP Series of streelights that employ new optics, drivers, and housings to double its lumens per dollar. Cree hopes to use this series to compete more directly with sodium vapor technology providers. This could represent another big step forward for LED technology, which has already made inroads in televisions, aircraft, automobiles, signage, displays, and other applications.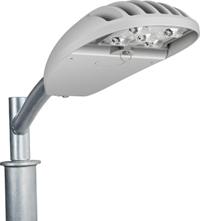 "By figuring out a different way to assemble the optics, we've made it a lot less expensive," Gary Trott, vice president of market development for Cree, told us. "The LEDs also have more light coming out of them, so we don't need as many."
The biggest reason for the higher lumens-per-dollar figure is the NanoOptic Precision Delivery Grid configuration, which dramatically reduces the number of optical assemblies that must be seated atop the LEDs, Trott said. In contrast with earlier generations of the company's streetlights, which used between 80 and 120 optical assemblies, the new streetlights employ just five. "That's a big contributor to our ability to boost the number of lumens per dollar."
Cree's new streetlights could reportedly sell for as little as $200, depending upon volume and power. The company says the new streetlights will use 50 percent less energy and last three times longer than sodium vapor lamps.




5
Nissan Motor Co. is taking the electric vehicle into new territory, rolling out an exotic-looking three-seat concept car that combines sustainability with race car-like performance.

1
3D visualization is helping us express information in a way that's more informative and easier to decipher.

1
A new service lets engineers and orthopedic surgeons design and 3D print highly accurate, patient-specific, orthopedic medical implants made of metal -- without owning a 3D printer. Using free, downloadable software, users can import ASCII and binary .STL files, design the implant, and send an encrypted design file to a third-party manufacturer.

4
Google is developing robots for manufacturing, assembly, and warehouse tasks.

21
When Dick Neubert discovered that his fireplace's heatilators lost heat when not in use, he created a gadget to rectify the situation.


LATEST ARCHIVED BROADCAST
For industrial control applications, or even a simple assembly line, that machine can go almost 24/7 without a break. But what happens when the task is a little more complex? That's where the "smart" machine would come in. The smart machine is one that has some simple (or complex in some cases) processing capability to be able to adapt to changing conditions. Such machines are suited for a host of applications, including automotive, aerospace, defense, medical, computers and electronics, telecommunications, consumer goods, and so on. This discussion will examine what's possible with smart machines, and what tradeoffs need to be made to implement such a solution.



Datasheets.com Parts Search
185 million searchable parts
(please enter a part number or hit search to begin)