D'Silva continued:
We see integrated safety controllers moving further down into less complex machines. For the simplest applications, safety relays will do the job and it doesn't make sense to use integrated safety at that point. We expect that integrated systems will continue to grow, and use of standalone systems will continue to shrink.
D'Silva said that while the percentage of customers using safety relays is going down versus separate safety controllers and integrated systems, it seems that customers are seeing the benefits of safety integrated into the machine control as part of the design phase, and not just as an afterthought. The clear trend is usage of safety relays decreasing and the use of controller-based safety systems rapidly increasing. The primary place where users are commonly implementing safety relays is simpler, standalone machines with typically only one or two safety devices.
D'Silva said the trend is to take all of the information from these standalone machines up to a higher level. Newer safety relays being introduced that offer more communications capability will make that possible but still, in general, use of safety relays is decreasing.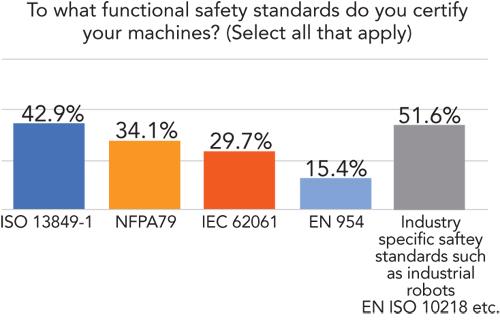 Rise of integrated safety solutions Integrated safety solutions are viewed as providing a wide range of solutions in new machine designs. Respondents identified the availability of diagnostic information (51.9 percent), safety software that uses same development tools used for machine control (43.5 percent), and productivity improvements (39.8 percent) as the key advantages of this approach, followed by additional machine uptime (36.1 percent), ease of system integration (33.3 percent), and lower hardware costs (24.1 percent).
The primary challenges of implementing integrated safety systems in new machine designs included system integration issues (47.2 percent), complexity of installation (40.7 percent), hardware costs (38.9 percent), software development costs (35.2 percent), customers unwilling to pay for new functionality (25.9 percent), and not seeing the return on investment (26.9 percent). D'Silva said:
The survey shows what I consider to be a big increase in customers valuing the availability of diagnostic information. Availability of advanced diagnostics allows users to understand problems more quickly and relates to reductions in downtime that will increase productivity.
But the survey also seems to indicate that while there is a group heavily invested in new safety technology, a significant community isn't even aware of important new safety standards and the basic requirements such as risk assessment. There are almost two worlds where one group is disconnected and the other is embracing the advantages of new technology and available tools.