Automotive driver assistance is poised to be a hot growth area over the next six years, and it's going to take the microcontroller market right along with it, a study from IMS Research says.
The study, "The World Market for Semiconductors in OEM Automotive Electronic Systems," predicts that accident avoidance features such as blind spot detection, rear obstacle detection, adaptive cruise control, collision avoidance, parking assistance, and lanekeeping will require 32-bit microcontrollers (MCUs). As a result, the market for MCUs and digital signal processors (DSPs) for such applications will grow from $70 million in 2011 to $150 million in 2018.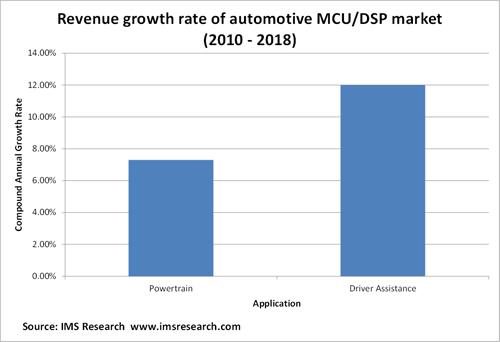 Advanced driver assistance systems (ADAS) "is a new market, and automakers are going to want it because they see it as a differentiator," Ben Scott, market analyst for IMS Research, told us. "That need for differentiation will drive the growth of this market."
The study predicts that parking assistance and backup cameras will be the two most popular ADAS applications, with 60 percent of vehicles having one or both by 2018. Approximately 10 percent of vehicles will incorporate blind spot detection, collision mitigation, and lane departure warning systems by that time, Scott said. Other ADAS features will include driver drowsiness warnings, adaptive headlights, and vehicle-to-vehicle communications.
Most of those systems will employ 32-bit MCUs around vehicles, collocating them with ultrasound, radar, and other types of sensors that look at the area surrounding the car. The MCUs will process information and, in many cases, send the data to sensor fusion modules, which will use additional MCUs to compare data from other sensors. As a result, high-end vehicles could use more than a half-dozen extra MCUs to help drivers. "It will start in the premium vehicles and trickle its way down from there," Scott said.
Other automotive MCU markets will continue to dwarf the $150 million ADAS MCU market. Scott said that the market for automotive instrumentation MCUs will be about $600 million in 2018. The powertrain market will be $800 million, and the infotainment market will hit approximately $1.8 billion. Still, driver assistance is growing faster than the others, with an annual growth rate of about 12 percent, compared with about 7 percent for the powertrain market, Scott said.
Most of the major automotive semiconductor makers already have 32-bit products targeted at driver assistance. Freescale Semiconductor offers 32-bit Qorivva MCUs for blind spot detection, lane departure warning, side view assistance, and adaptive headlights, as well for high-resolution video compression over fast Ethernet. Infineon Technologies markets Aurix MCUs for lanekeeping and parking assistance. Texas Instruments has introduced its Hercules TMS570 MCUs for safety-critical automotive applications, and its C6000 DSPs enable automakers to support ADAS features with a single processor.
Scott said that about half the ADAS controllers will employ multiple cores by 2018. A multicore setup will provide more processing at lower power, with the added benefit of redundancy. "There's been talk of 64-bit devices, but that will be farther out in the future. In the meantime, 32-bit multicore will definitely be the way forward."
Related posts: