Automation & Motion Control
Burton added:
These new beams can be produced at up to 600 ft/min, so it's an interesting area for automation. Mills have typically had five to six people climbing over the loads to staple them, which caused accidents and worker compensation issues. Automation gave them an opportunity to use these workers in different roles, away from non-value added functions. Now they are part of running the monitors, controls, and systems required to keep production running at that fast rate.
With increased communication and coordination between the robots, the product is coming off the line and final layup is approximately 80 ft lengths. Then it moves into an in-process area where, according to the load request for beams, they are cut into 12 ft to 60 ft beams.
The system doesn't know until it goes through the final saw operation and is fed out, whether it will be wrapping a 12 ft, 30 ft, 40 ft, or 60 ft length. But by calculating in real-time the length of the film required to wrap that specific load, the system is able to receive the information on whether it will be converted into a bundle of 40 ft or 60 ft beams.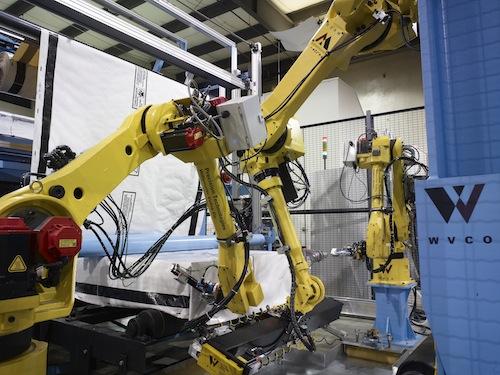 The system uses one FANUC Robotics M–710iC/70 robot, two M–16iB/10L robots, and one M–20iA/10L robot to complete the process. Previously, four or five people worked on the manual system. While one worker remains in place providing system maintenance, the remaining workers have been moved to more value-added, non-hazardous maintenance positions.
A unique feature that the system offers is its carousel arrangement with four different rolls for different-sized beams. This simplifies the load changeover significantly from manual operation and workers directly involved with the process. It makes it much faster and safer to keep up with products coming in from the layup line. The higher level of automation also helps to reduce scrap and maximize yields, along with loads that were scrapped because they didn't get wrapped properly.
Burton said:
In the past, lines could be delayed in the process because they weren't wrapped right by the individuals, or workers were not available and ready for the next wrapping operation. An indirect impact of the automation is the consistency it brought to the operations by increasing throughput and quality. We typically find customers looking for a system payback that is two years or under, but the majority of projects are at least half of that time.




2
The promise of the Internet of Things (IoT) is that devices, gadgets, and appliances we use every day will be able to communicate with one another. This potential is not limited to household items or smartphones, but also things we find in our yard and garden, as evidenced by a recent challenge from the element14 design community.

2
Researchers have developed a new flexible fabric that integrates both movement and sensors, introducing new potential for technology-embedded clothing and soft robots.

3
Made by Monkeys highlights products that somehow slipped by the QC cops.

3
If you didn't realize that PowerPoint presentations are inherently hilarious, you have to see Don McMillan take one apart. McMillan -- aka the Technically Funny Comic -- worked for 10 years as an engineer before he switched to stand-up comedy.

9
The first Tacoma Narrows Bridge was a Washington State suspension bridge that opened in 1940 and spanned the Tacoma Narrows strait of Puget Sound between Tacoma and the Kitsap Peninsula. It opened to traffic on July 1, 1940, and dramatically collapsed into Puget Sound on November 7, just four months after it opened.

Focus on Fundamentals consists of 45-minute on-line classes that cover a host of technologies. You learn without leaving the comfort of your desk. All classes are taught by subject-matter experts and all are archived. So if you can't attend live, attend at your convenience.
Last Archived Class