Stratasys' Mojo 3D Print Pack, priced at $9,900, is packaged as a system providing everything needed to produce models, from the printer to the material, and a support removal system. The Mojo uses Stratasys' patented Fused Deposition Modeling (FDM) technology, and the firm is offering a leasing option, with payments as low as $185 a month, to get engineering shops on board.
In a video announcing the product (at the bottom of this post), Jon Cobb, Stratasys' global marketing vice president, said the "magic" of the Mojo is that, despite the low price point, it delivers genuine FDM technology, enabling teams or individuals to produce durable ABS models in a cube of up to five inches to test for form, fit, and function.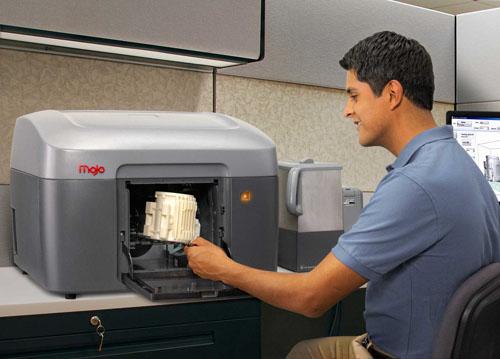 The message here is that the Mojo isn't intended for the consumer and hobbyist market, which has gotten a lot of attention as of late from 3D printer players. Rather, this printer aims to appeal to the untapped universe of hardcore CAD and engineering users. As such, the printer's fast-build capabilities and its capacity to print in fine detail with a layer thickness of 0.007 inches (0.178mm) are targeted at professional applications for concept prototyping, design collaboration, and even some rapid production of functional parts.
At 25 inches wide and 21 inches deep, the Mojo is about the size of a standard office multifunction printer. Its design, including easy-to-replace print cartridges, mimics that of a typical office printer in many ways, according to Cobb.
The QuickPack print engine is where the unit differs from Stratasys' other lower-priced offerings. The technology, a variation of traditional FDM material extrusion, integrates both the ABS material spool and the print head into a single package, so a fresh print head is part of each material change. This is meant to reduce potential problems. Other features designed to simplify the experience include the addition of Print Wizard, Mojo's preprocessing software for preparing models and managing workflow, and WaveWash 55, a self-contained, hands-free cleaning system that removes support material and requires no plumbing.
Related posts: