While 200mph speeds are not uncommon for IZOD IndyCar racers, their electronic systems are in many ways simpler than those found in many passenger cars designed for public highway speeds. After all, these vehicles do not need an extensive infotainment system, climate control, or security electronics.
But such cars do require specialization in those systems that are onboard to allow teams to optimize performance while maximizing safety. Trevor Knowles, director of engine development for IndyCar and an expert on their electronic systems, notes the difference between IndyCar electronics and those in passenger cars in that racecar electronics are more customized than those in passenger cars because of the unique requirements and lower production numbers.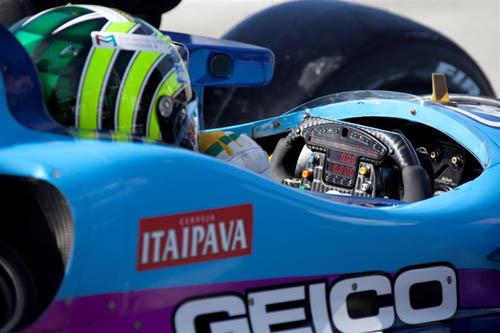 Trevor Knowles told us:
Engine control units (ECUs) are designed to be frequently reprogrammed, while a road car unit would normally be sealed. IndyCar ECUs also have 1GB of logging memory, downloadable by CAT5 Ethernet connection. A road car ECU would probably have a lot less memory and it would be accessible only through special hardware.
He said racing teams have to measure many car parameters, not for control but for logging data in order to tune the chassis performance at a track.
Circuit protection in IndyCars also differs from that in passenger cars, according to Dan Woodie, data acquisition specialist at KV Racing Technology. He said that while road cars use fuses, relays, and breakers for protection (with spares needed for replacement in case of failure):
IndyCar electronics are protected by a PDU (power distribution unit) that monitors the current flow and will trip at a pre-set current limit to avoid damage to the (wiring) looms and other equipment. The PDU is remotely monitored, allowing engineers to see a problem before it becomes more serious.
In addition to current limiting, racing electronics need to present minimal hazard during an accident at speeds well above highway limits. "Electronic modules and looms are separated from the driver by Kevlar and carbon fiber panels. The battery, PDU, and other components are outside the driver's compartment," said Woodie. And a master switch accessible to safety crews can cut all electric power and trigger the fire suppression system.




5
Nissan Motor Co. is taking the electric vehicle into new territory, rolling out an exotic-looking three-seat concept car that combines sustainability with race car-like performance.

1
3D visualization is helping us express information in a way that's more informative and easier to decipher.

1
A new service lets engineers and orthopedic surgeons design and 3D print highly accurate, patient-specific, orthopedic medical implants made of metal -- without owning a 3D printer. Using free, downloadable software, users can import ASCII and binary .STL files, design the implant, and send an encrypted design file to a third-party manufacturer.

4
Google is developing robots for manufacturing, assembly, and warehouse tasks.

21
When Dick Neubert discovered that his fireplace's heatilators lost heat when not in use, he created a gadget to rectify the situation.


LATEST ARCHIVED BROADCAST
For industrial control applications, or even a simple assembly line, that machine can go almost 24/7 without a break. But what happens when the task is a little more complex? That's where the "smart" machine would come in. The smart machine is one that has some simple (or complex in some cases) processing capability to be able to adapt to changing conditions. Such machines are suited for a host of applications, including automotive, aerospace, defense, medical, computers and electronics, telecommunications, consumer goods, and so on. This discussion will examine what's possible with smart machines, and what tradeoffs need to be made to implement such a solution.



Datasheets.com Parts Search
185 million searchable parts
(please enter a part number or hit search to begin)