When packs of drivers jockey for position on the speedway at Sunday's Indianapolis 500, a select group of engineers will be thinking, not about engines and tires, but about the effects of laminar and turbulent airflow.
"It's one thing when you're riding around the track and there's no air disturbance," Mark Johnson, general manager of KV Racing Technology, told us. "But when you're in a three- or four-car pack driving through disturbed air, it's another matter. That's why the wind tunnel simulation is so important."
Indy's engineers spend hundreds of hours testing cars in wind tunnels. Along with on-track testing, KV Racing employs a "rolling road" at a wind tunnel to build an "aero map" of its vehicles. The rolling road, operated by Wind Shear Inc., measures 10.5 feet wide and 29.5 feet long. Its continuously turning steel belt can accelerate from 0 to 180mph in less than a minute and incorporates a measurement system that monitors the aerodynamic downforce under each tire.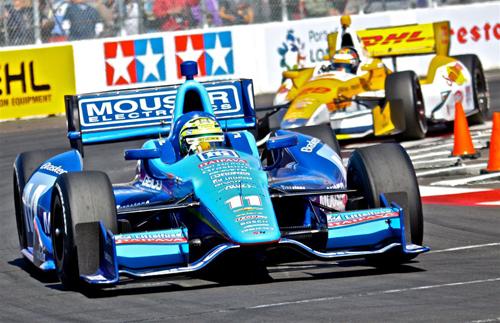 "Going to the wind tunnel is critical to our understanding," Johnson said. "The engineers learn what happens when they make a change on the rear or front of the car, and they find out what they have to do in order to make all the changes work in concert with each another."
Given the new rules at Indy, those changes won't be big, but they can still make the difference between victory and defeat. One of the key components not constrained by the rules is the wicker -- a little piece of angle iron on the car's front and rear wings. The wicker, measuring anywhere from one-sixteenth to one-half of an inch in cross-section, can run the full width of a wing (about 18 inches across). By altering the size and angle of the wickers, engineers can significantly change the aerodynamics of their vehicles. To find out how much change they've wrought, they bring the vehicles to the wind tunnel or to the actual track and take measurements.
At a track in Texas, for example, KV recently experimented with wickers to provide more aerodynamic downforce for a rookie driver. Starting with a flat rear wing and varying the size of the wickers on the front up to three-eighths of an inch and then down to one-fourth of an inch, they found they could produce amazing amounts of downforce. "We got to where he could drive around the track and never lift the throttle for five or six laps at a top speed of 205 miles per hour," Johnson said. "After he got more comfortable, we took a little bit of the wicker off."
Such adjustments are commonplace for Indy race teams, Johnson said. Through trial and error, they learn how to use aerodynamics to make their cars ride high or low, increasing or decreasing drag and thereby tweaking the downforce. "You can get the car to ride closer to the ground, which increases your grip, or you can let it ride higher and faster. It's a very fine balancing act."
You can learn more about the Indy 500 at Littelfuse's Speed2Design site.
Related posts: