Similarly, race teams recreate the operation of engines and gearboxes on dynamometers. The "dynos" are particularly useful in helping the teams customize their use of coatings inside the gearbox, which is one of the few unrestricted aspects of today's Indy powertrains.
Race teams respond to dyno tests by choosing a variety of coatings, including some impregnated gear coatings that contain Teflon to help reduce friction. "We can coat the inside of the gearbox with different materials that allow oil to drain away from the gears to the sump, so that it's not meshing in between the gears," Johnson said.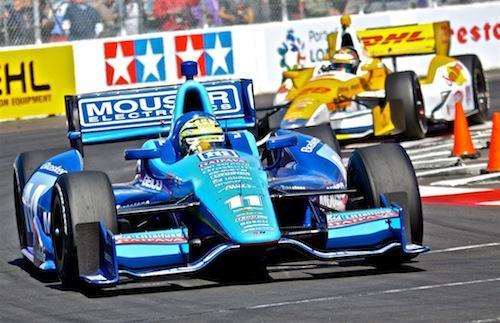 By simulating operation of the powertrain on the dynos, teams can also find ways to boost speed on the track. They look at internal temperatures and external G-loads, and then settle on the optimal combination of coatings and lubricants.
"On some tracks, you'll have G-loads of 4 or 5 Gs in the corners, and all of a sudden, all the oil is running away from the gears," Johnson said. "You have to make sure you have a lubricant that will stay with your gears under those loads.
While lubricants, coatings, and damping may appear to be minor issues to the uninitiated, race teams say that the monitoring of such variables has actually raised the sense of competition between engineering teams. Because gearboxes (Xtrac Transmission Technology) and chassis (Dalarra Automobili) are provided by single suppliers and engines are tightly controlled, engineering teams must squeeze every ounce of performance out of what remains.
"It comes down to attention to detail," Johnson said. "The teams that have the most resources are able to pay attention to details and give themselves a competitive edge."
[Learn more about the Indy 500 at Littelfuse's Speed2Design site.]
Related posts: