Boeing has designed and released its own custom iPad app, leveraging Apple's tablet device to show off decades of aerospace design to a new generation of tech-savvy mobile users. The Milestones in Innovation app chronicles Boeing's 90 years of innovation with images and an interactive timeline that highlights aviation designs from the company's first airplane, the B&W, to its most recent state-of-the-art design, the 787 Dreamliner.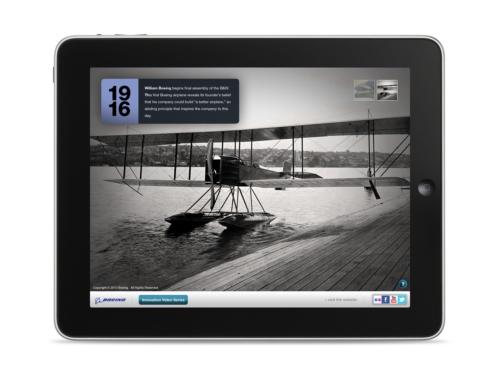 The app also includes four videos from Boeing's "Inspiration to Innovation" series, which depicts changes in design over the years and interests in exploring green fuel options, among other highlights in the company's history. Calling the app a "digital coffee table book," Fritz Johnston, Boeing's vice president of brand and advertising, said in a press statement that the iPad's Retina display -- a pixel-dense LED that allows for high definition and sharpness -- makes the device "the perfect canvas" to present Boeing's historical narrative.
The company, founded by Bill Boeing in 1916, continues to change its aviation designs to keep up with the changing demands of the industry. High oil prices and environmental impact are among chief concerns, and Boeing has changed the design of its newest commercial jets -- the Dreamliner and next-generation 737 Max -- accordingly. Both jets, for instance, have an integrated engine/wing design that will make them more fuel efficient, and the 737 Max will include an innovative new split-tip winglet that will also lower the fuel burn of the aircraft, according to Boeing.
Boeing, which participated in NASA's early Apollo space program, also remains in the space game. The company is developing a next-generation space capsule -- the Crew Space Transportation (CST)-100 -- for NASA's commercial space program to ferry passengers and cargo to and from the International Space Station. Boeing recently completed two successful parachute drop tests of the capsule's landing system.
Related posts




5
Nissan Motor Co. is taking the electric vehicle into new territory, rolling out an exotic-looking three-seat concept car that combines sustainability with race car-like performance.

1
3D visualization is helping us express information in a way that's more informative and easier to decipher.

0
A new service lets engineers and orthopedic surgeons design and 3D print highly accurate, patient-specific, orthopedic medical implants made of metal -- without owning a 3D printer. Using free, downloadable software, users can import ASCII and binary .STL files, design the implant, and send an encrypted design file to a third-party manufacturer.

3
Google is developing robots for manufacturing, assembly, and warehouse tasks.

19
When Dick Neubert discovered that his fireplace's heatilators lost heat when not in use, he created a gadget to rectify the situation.


LATEST ARCHIVED BROADCAST
For industrial control applications, or even a simple assembly line, that machine can go almost 24/7 without a break. But what happens when the task is a little more complex? That's where the "smart" machine would come in. The smart machine is one that has some simple (or complex in some cases) processing capability to be able to adapt to changing conditions. Such machines are suited for a host of applications, including automotive, aerospace, defense, medical, computers and electronics, telecommunications, consumer goods, and so on. This discussion will examine what's possible with smart machines, and what tradeoffs need to be made to implement such a solution.



Datasheets.com Parts Search
185 million searchable parts
(please enter a part number or hit search to begin)