The US military is looking for a way to make batteries and other power sources lighter for soldiers to carry in the field. Researchers at the US Army Research, Development, and Engineering Command (RDECOM) have come up with a wearable power pack and two next-generation batteries that are being tested and will be put into use in the next year.
This effort is one of several the military has undertaken recently to change the design of historically heavy items by using lighter materials or a more utilitarian design. We recently reported on the development of an ammunition backpack to help reduce the weight of munitions on the battlefield.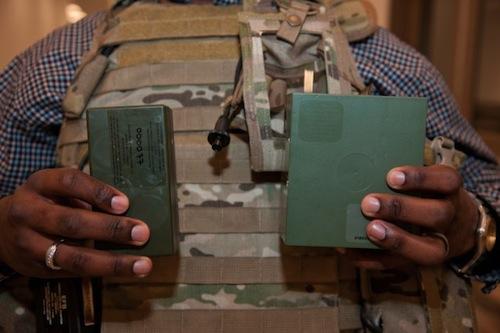 The Army Website says batteries and power sources leave a lot of room for lightening the load in the field, reducing soldier fatigue, and increasing agility. An integrated power source could also eliminate the need to recharge batteries in the field. To achieve this, RDECOM researchers have designed a power-source vest, called the Soldier Wearable Integrated Power System, or SWIPES, which includes a main battery that can be used to power up a number of items.
SWIPES can hold pouch-mounted chargers and power cables for batteries, GPS units, shot detection systems, and handheld communications, allowing soldiers to keep their devices and electronic equipment charged constantly. It also saves soldiers from carrying up to 12 pounds of batteries, according to the Army, which is field testing several hundred SWIPES units.



We see Gadget Freak projects from all walks of life, but many of our most imaginative gadgets are created by budding engineers.
By experimenting with the photovoltaic reaction in solar cells, researchers at MIT have made a breakthrough in energy efficiency that significantly pushes the boundaries of current commercial cells on the market.

0
Advanced Micro Devices' latest release brings a cloud-based graphics boost, along with unparalleled performance, to the workstation.
In a world that's going green, industrial operations have a problem: Their processes involve materials that are potentially toxic, flammable, corrosive, or reactive. If improperly managed, this can precipitate dangerous health and environmental consequences.

7
With LEDs dropping in price virtually every year, automakers have begun employing them, not only on luxury vehicles, but on entry-level models, as well.


A quick look into the merger of two powerhouse 3D printing OEMs and the new leader in rapid prototyping solutions, Stratasys. The industrial revolution is now led by 3D printing and engineers are given the opportunity to fully maximize their design capabilities, reduce their time-to-market and functionally test prototypes cheaper, faster and easier. Bruce Bradshaw, Director of Marketing in North America, will explore the large product offering and variety of materials that will help CAD designers articulate their product design with actual, physical prototypes. This broadcast will dive deep into technical information including application specific stories from real world customers and their experiences with 3D printing. 3D Printing is




Datasheets.com Parts Search
185 million searchable parts
(please enter a part number or hit search to begin)