"The tightness in the PA12 polymer supply actually started more than two years ago, caused by increased demand in photovoltaic solar and oil and gas applications, and customers began asking for replacements," said Lee.
"The largest and most critical area of replacement needed now is in fuel lines and truck air brake lines. In these, you're always trying to balance the flexibility of the material with chemical and salt resistance, and the material's processability. The properties needed can vary by processor, or application, or OEM. The trick is to balance the right potential substitute with those properties."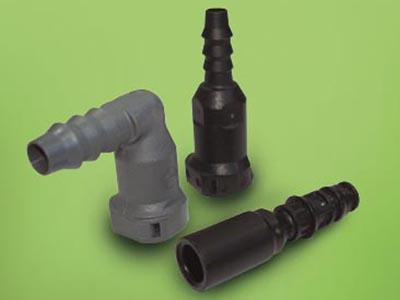 The difficulty and the challenge are that PA 12 may have been used in applications where it didn't need to be, and where alternatives exist, said Lee. Every application needs to be reviewed on its own to see what's possible. The vast majority of PA 12 replacements will likely be based on other polyamide chemistries.
Other producers of castor-based polyamides include Radici Plastics and Rhodia. Rhodia is conducting trials of its Technyl eXten PA6.10 product for use in automotive and industrial tubing and flexible hoses, as well as fuel quick connectors, said Alan Dubin, business development and technical service manager, North America, for Rhodia Engineering Plastics, in an interview.
Technyl eXten 6/10 grades are available for both extrusion and injection molding, Dubin said. They are especially suited to fittings and adapters for engine fuel systems and flexible tubes for power-assisted control systems. In chemical resistance and mechanical properties for some components, such as quick connectors and other injection-molded parts, as well as in some extrusion-molded applications, these grades may actually perform better than PA 12.
"We've done three automotive customer studies for major manufacturers of fuel line quick connectors that show virtually no change in part dimensions or part performance," said Dubin. "They have evaluated our material in several different injection-molded products."
PA 6/10 has virtually the same range of operating temperatures as PA 12, with similar results in heat aging characteristics. Making the switch from PA 12 to 6/10 should also result in a substantial cost reduction. Dubin says evaluations of extrusion-molded product performance are ongoing.
Related posts: