When the cars take the track at the Indy 500 a few weeks from now, the margin of victory might be directly attributable to the person in the driver's seat. Or it might be related to an engineering detail so miniscule most spectators have never heard of it. "Sometimes the advantage comes from splitting hairs and extracting every last bit of performance out of the car," Eddie Jones, race engineer for KV Racing Technology, told us.
[Five engineers will win a free trip to the Indy 500. Enter by May 9 at Littelfuse's Speed2Design contest. ]
At Indianapolis these days, that's the only way a driver will get take the traditional swig from a bottle of milk after crossing the finish line. At this year's race, on May 27, all the teams will use the same chassis from Dallara Automobili. And they'll all employ an engine from one of three manufacturers: Chevrolet, Honda, or Lotus. Engine displacement, electronics, aerodynamics, batteries, dashboards, and countless other system configurations are spelled out for the teams in the 203-page 2012 IZOD IndyCar Series Rulebook (PDF).
"It's really not the way it used to be many years ago, where you could build your own car, choose your own engine within regulations, and then go out there and run," Jones said. "It's really changed over the last couple of decades."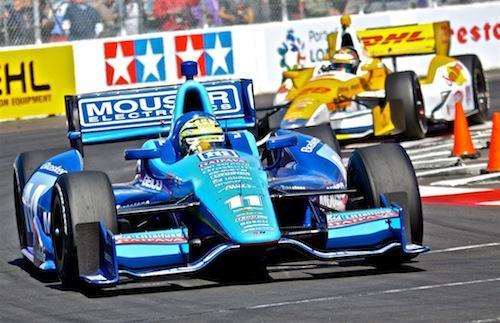 The unititiated might be shocked to learn that the engine displacement of the 230mph Indy car might be no bigger than that of the engine in their driveway. This year, displacement is limited to 2.2 liters on a V6 design. One of the few areas of technical freedom lies in turbocharging. Honda's engine uses a single turbo, while the Chevy runs with twin turbos. "Within those constraints, the month of May will likely show that those engines are pretty evenly matched," Jones said.




5
Nissan Motor Co. is taking the electric vehicle into new territory, rolling out an exotic-looking three-seat concept car that combines sustainability with race car-like performance.

1
3D visualization is helping us express information in a way that's more informative and easier to decipher.

1
A new service lets engineers and orthopedic surgeons design and 3D print highly accurate, patient-specific, orthopedic medical implants made of metal -- without owning a 3D printer. Using free, downloadable software, users can import ASCII and binary .STL files, design the implant, and send an encrypted design file to a third-party manufacturer.

4
Google is developing robots for manufacturing, assembly, and warehouse tasks.

21
When Dick Neubert discovered that his fireplace's heatilators lost heat when not in use, he created a gadget to rectify the situation.


LATEST ARCHIVED BROADCAST
For industrial control applications, or even a simple assembly line, that machine can go almost 24/7 without a break. But what happens when the task is a little more complex? That's where the "smart" machine would come in. The smart machine is one that has some simple (or complex in some cases) processing capability to be able to adapt to changing conditions. Such machines are suited for a host of applications, including automotive, aerospace, defense, medical, computers and electronics, telecommunications, consumer goods, and so on. This discussion will examine what's possible with smart machines, and what tradeoffs need to be made to implement such a solution.



Datasheets.com Parts Search
185 million searchable parts
(please enter a part number or hit search to begin)