Fodemski's solution would mitigate damage to the brain by firing the airbags when the brain is about to hit the inside of the skull. The company says that its airbags would provide inward force, serving to nudge the brain back to neutral sooner, rather than having to wait for eight or 10 more collisions while the brain moves back and forth. "All leading theories say that the axons -- the wires between the neurons -- are tearing," Fodemski said. "In some cases, the axons can regenerate or repair. In some cases, they can't. But eventually, you exhaust the brain's capacity to repair the neuro-pathways."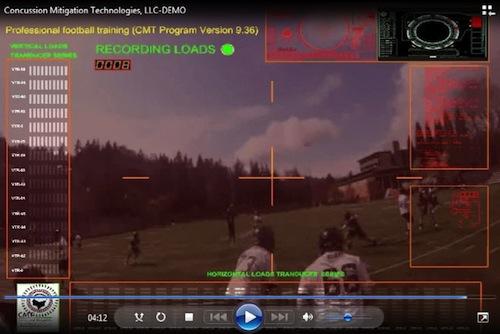 Fodemski's idea builds on earlier work done at Virginia Tech and at other universities, where engineers fitted helmets with accelerometers and associated electronics to monitor impact on players. The smart helmets showed that some particularly hard hits resulted in accelerations of 100 Gs or more to the head.
Fodemski said he doesn't yet know what his football helmets will cost, but it's believed that they could run several times as much as today's helmets, which often cost between $175 and $300. Concussion Mitigation Technologies also hopes to place the technology in other sports, such as hockey, baseball, and skiing, as well as in the military. Initial prototypes for football are expected to be ready in about six months. "It's time to start thinking bigger about this issue," Fodemski said. "We're talking about the brain, which is an organ that can't be replaced."
Concussion Mitigation Technologies can be reached at concussionmitigationtech@gmail.com.
Related posts:




1
Contributing editor Cabe Atwell developed a Raspberry Pi and Arduino-based remote network fish tank control for his goldfish, Goldie Fishwater.

6
Are they robots or androids? We're not exactly sure. Each talking, gesturing Geminoid looks exactly like a real individual, starting with their creator, professor Hiroshi Ishiguro of Osaka University in Japan.

1
Hybrid vehicle engineers may now have a way to do hardware-in-the-loop simulation testing, instead of physical dynamometer testing, on the electric motors that propel their cars.

8
NASA is developing Project Morpheus, a vehicle that can lift off and set itself down on planetary surfaces.

19
Nissan Motor Co. is taking the electric vehicle into new territory, rolling out an exotic-looking three-seat concept car that combines sustainability with race car-like performance.


LATEST ARCHIVED BROADCAST
For industrial control applications, or even a simple assembly line, that machine can go almost 24/7 without a break. But what happens when the task is a little more complex? That's where the "smart" machine would come in. The smart machine is one that has some simple (or complex in some cases) processing capability to be able to adapt to changing conditions. Such machines are suited for a host of applications, including automotive, aerospace, defense, medical, computers and electronics, telecommunications, consumer goods, and so on. This discussion will examine what's possible with smart machines, and what tradeoffs need to be made to implement such a solution.



Datasheets.com Parts Search
185 million searchable parts
(please enter a part number or hit search to begin)